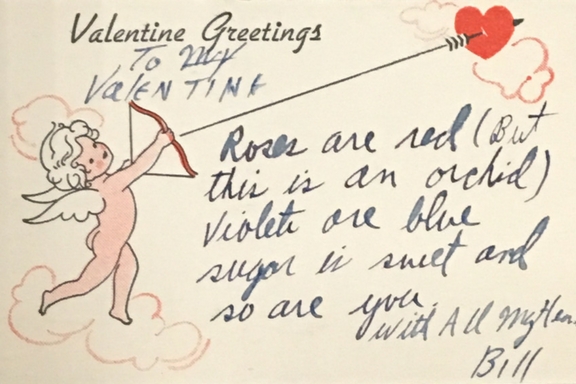 Billy Graham met Ruth Bell in the early 1940s while they were attending Wheaton College in Illinois. The college sweethearts loved God and each other for over 63 years. Above is a Valentine Billy had given Ruth along with flowers in the 1950s. It reads: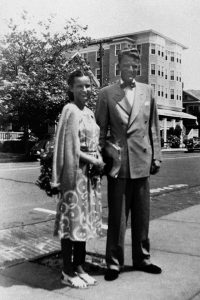 To My Valentine,
Roses are red (but this is an orchid)
violets are blue
sugar is sweet 
and so are you.
With All My Heart,
Billy
In his autobiography, "Just As I Am," Billy Graham tells sweet stories of their early friendship.
"One day we were hanging around in our sweaty work clothes in front of Williston Hall, the girls' dorm, getting ready to haul some furniture for a lady in Glen Ellyn, the next town over, when Johnny let out a whoop. 'Billy, here's the girl I was telling you about,' he said. 'It's Ruth Bell.'
I straightened up, and there she was. Standing there, looking right at me, was a slender, hazel-eyed movie starlet! I said something polite, but I was flustered and embarrassed. It took me a month to muster the courage to ask her out for a date.
The Christmas holidays were fast approaching, and the combined glee clubs were presenting Handel's Messiah. One day in the library in Blanchard Hall, I saw Ruth studying at one of the long tables. Johnny Streater and Howard Van Buren urged me to make a pitch to her right there… Undaunted, I sauntered nonchalantly across to Ruth and scribbled my proposal for a date to the concert. To my surprise and delight, she agreed to go."
After that date, both Billy and Ruth were excited for the future of their relationship.
"Ruth went back to her room (she told me later), got on her knees, and told the Lord that if she could spend the rest of her life serving Him with me, she would consider it the greatest privilege imaginable…
Two things I felt sure of: first, that Ruth was bound to get married someday; and second, that I was the man she would marry. Beyond that, I did not try to pressure her or persuade her—that is to say, not overly much. I let God do my courting for me."
To see more from The Archive Collection, click here.