February 2, 2018
Eisenhower: The First President to Ask for Billy Graham's Counsel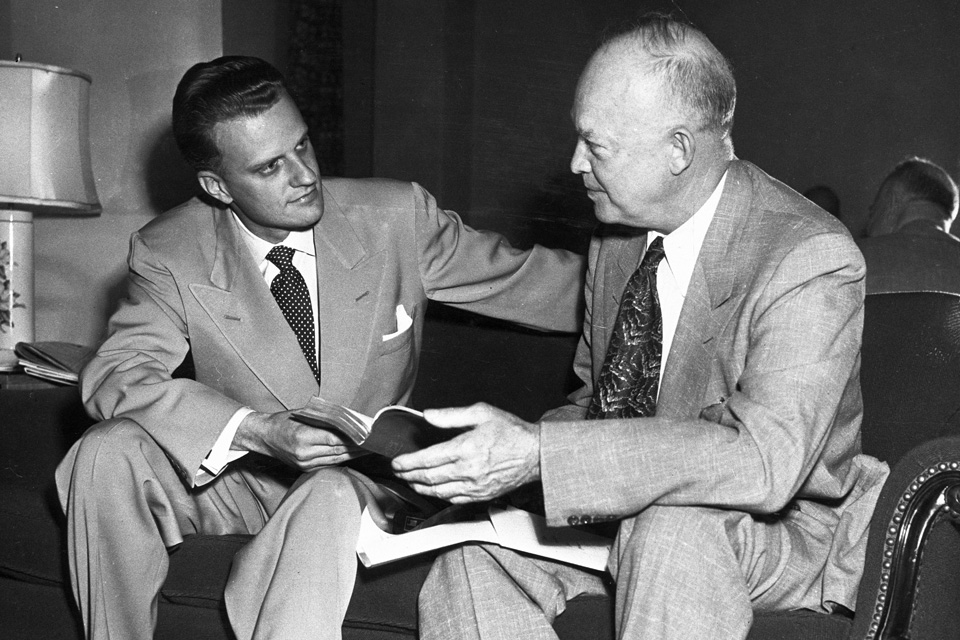 During Billy's early years in ministry, he slowly got more and more involved with governing authorities. Graham had prayed with President Truman in 1950, but it wasn't until he met Eisenhower that he was asked to assume his unofficial role of "pastor to the presidents."
Eisenhower had asked for Graham's counsel at many points in his presidency. "I think one of the reasons I was elected was to help lead this country spiritually," he told Graham. "We need a spiritual renewal."
The president was encouraged by Graham to seek the Lord's guidance. He prayed his own prayer at his inaugural address in 1953, and soon after assuming office proclaimed a national day of prayer. He kept in contact with Graham, and asked him to visit again in 1955. Graham said he prayed the whole drive, asking God to help him say the right thing. During their visit, the president addressed matters of faith.
"'Billy, do you believe in Heaven?' he asked.
'Yes, sir, I do.'
'Give me your reasons.'
With my New Testament open, I gave the President a guided tour through the Scriptures that spoke of the future life."
—Billy Graham, "Just As I Am"
Years down the road, Graham met with Eisenhower at Walter Reed hospital a few months before the president passed away. Graham recalls the conversation in his autobiography, "Just As I Am":
"As my scheduled twenty minutes with him extended to thirty, he asked the doctor and nurses to leave us. Propped up on pillows amidst intravenous tubes, he took my hand and looked into my eyes. 'Billy, you've told me how to be sure my sins are forgiven and that I'm going to Heaven. Would you tell me again?'
I took out my New Testament and read to him the familiar Gospel verses, the precious promise of God about eternal life. Then, my hand still in his, I prayed briefly.
'Thank you,' he said. 'I'm ready.'"
To see more stories on Graham during his early years in ministry, visit here.