July 1, 2019
Behind the Scenes with Billy Graham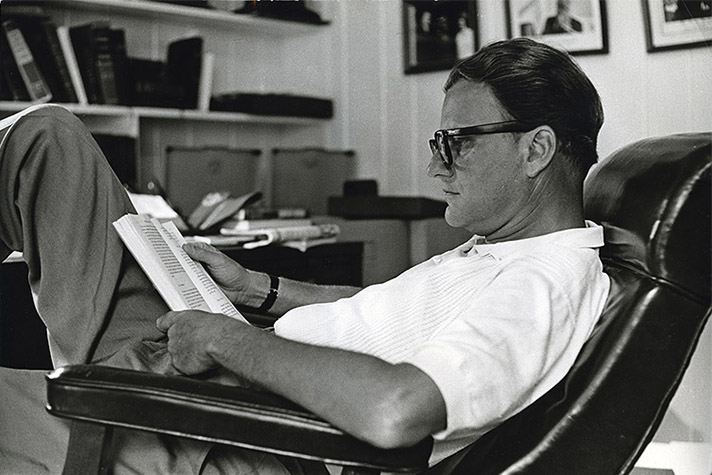 Maury Scobee, close friend and personal assistant to Billy Graham, talks about how he first got involved with the Graham family and what a blessing it was. He also provides a first-hand account of Mr. Graham's genuine love for people.
Q: In 1977 you were hired as Mr. Graham's personal assistant on a trial basis. When did you know that it would turn into a long-term position?
A: After the third day, I felt the Lord telling me, "You're going to be there for a long, long time" so I really forgot about the six-month trial. So it didn't make me nervous about Mr. Graham saying, "Hey come up, Ruth and I want you to come each lunch real quick." They were sort of quiet and almost a little cagey, and I could tell something was going on. So after lunch, and after dessert, and after coffee I thought, when are they going to start talking about whatever it is?
He said, "You know what today is, today ends your six months." I about collapsed on the inside and I said a quick prayer.
He said, "We've grown to appreciate you and love you, and we don't want you to leave, but we want you to tell us what you think the Lord might want you to do." I probably fell back in the chair and laughed, I'm not sure. I said, believe it or not, that happened on the third day and I heard the Lord say, "You're going to be here for a long, long time."
Q: How important was prayer to Mr. Graham?
A: He prayed for people a lot, even while watching a newscast. We'd go to commercial and he'd ask me to mute the TV. He had a genuine love for people even though they were total strangers. He had great compassion for these people and wanted their needs to be met.
Q: How were Mr. Graham's interactions with people outside of the Crusades?
A: He was always ready to speak with anyone. All these experiences enabled Mr. Graham to be able to immediately respond and be a real comfort and joy and blessing to each person he met. He loved everybody.
Q:  How did you first meet Franklin Graham?
A:  When I heard that Franklin was going to be coming to [LeTourneau], I prayed because I knew in my heart that I could be a good friend, and would be a good friend, but I didn't want to try to make it happen. I know a lot of us make promises that we end up trying to help God make it happen, but I genuinely wanted it to happen in a way apart from me looking like I was pursuing it.
Four to six times a week we would cross paths, but he was sort of bashful being a new campus student.
It was my last five minutes on campus. I was going to get my campus mail and then go back home. It was about 6 p.m. and I heard a car drive up and someone came up the steps and walked in the door and this voice said, "Wait, aren't you Maury Scobee?" I turned around and it was Franklin Graham.
It was my last five minutes on campus and his last five minutes on campus and he said, "More people have talked about you, and I certainly hope we can be friends. I'll be back this fall."
I knew it was God that brought it about.