June 12, 2019
A Proclamation Declaring "Billy Graham Day"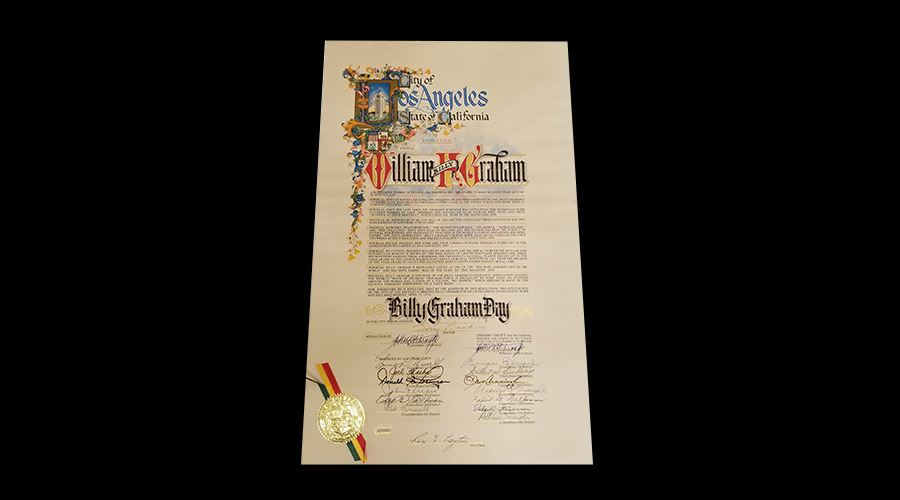 Forty-five years ago, Billy Graham was presented a certificate during his 1974 Crusade in California.
The certificate was given to Mr. Graham by Tom Bradley, then mayor of Los Angeles, commending Graham for his outstanding evangelistic work and declaring Monday, April 29, 1974, "Billy Graham Day" in LA.
The certificate reads:
William F. "Billy" Graham

A world-wide symbol of evangelism, has preached the Gospel to more millions than anyone in history; and

whereas, born in North Carolina and ordained by Southern Baptists in 1940, Billy Graham's Crusades have been held in virtually every state in the United States and more than 50 foreign countries; and

whereas, since the late 1940's, Mr. Graham's schedule has left little time to indulge in his favorite hobbies of golf, swimming and jogging or to be with his wife, Ruth, and their children at their Montreat, North Carolina, home in the mountains; and

whereas, he married Ruth McCue Bell in 1943 and the couple has three daughters and two sons ranging in age from 13 to 26; and

whereas, his books, "Peace with God," "The Secret of Happiness," "My Answer," "World Aflame," and "The Challenge" have been read by millions and the author has been the subject of several biographies and personality features in the world's leading magazines and newspapers; "The Jesus Generation," Billy Graham's newest book sold 200,000 copies in the first two weeks after publication and has been published in 15 languages; and

whereas, his Los Angeles, New York and four London Crusades probably stand out as the highlights in his career as an evangelist; and

whereas, his counsel has been sought by presidents and his appeal to both the secular and non-secular worlds is shown by the wide range of groups that have honored him, these recognitions ranging from addressing the president's National Prayer Breakfast to the Gold Award of the George Washington Carver Memorial Institute in 1963, from the Speaker of the Year Award in 1964 to the Salvation Army's distinguished service medal; and

whereas, Billy Graham is regularly listed as one of the "ten most admired men in the world" and has been named "man of the year" by Time Magazine; and

whereas, Billy Graham is founder of the Billy Graham Evangelistic Association leading the weekly "Hour of Decision" program which is broadcast by more than 900 stations around the world and author of a column, "My Answer," which appears in many of the nation's foremost newspapers on a daily basis.

Now, therefore, be it resolved, that by the adoption of this resolution, the City Council of the city of Los Angeles commends Billy Graham for his outstanding evangelistic work and declares Monday, April 29, 1974,

Billy Graham Day in the city of Los Angeles.
See more from the Billy Graham Library archive collection.