December 4, 2017
VIDEO: The Newest Nativity Resident
Each year at the Billy Graham Library we welcome animals from Sam's Path Petting Zoo as part of the live nativity. Various animals are included and help bring the story of the first Christmas to life.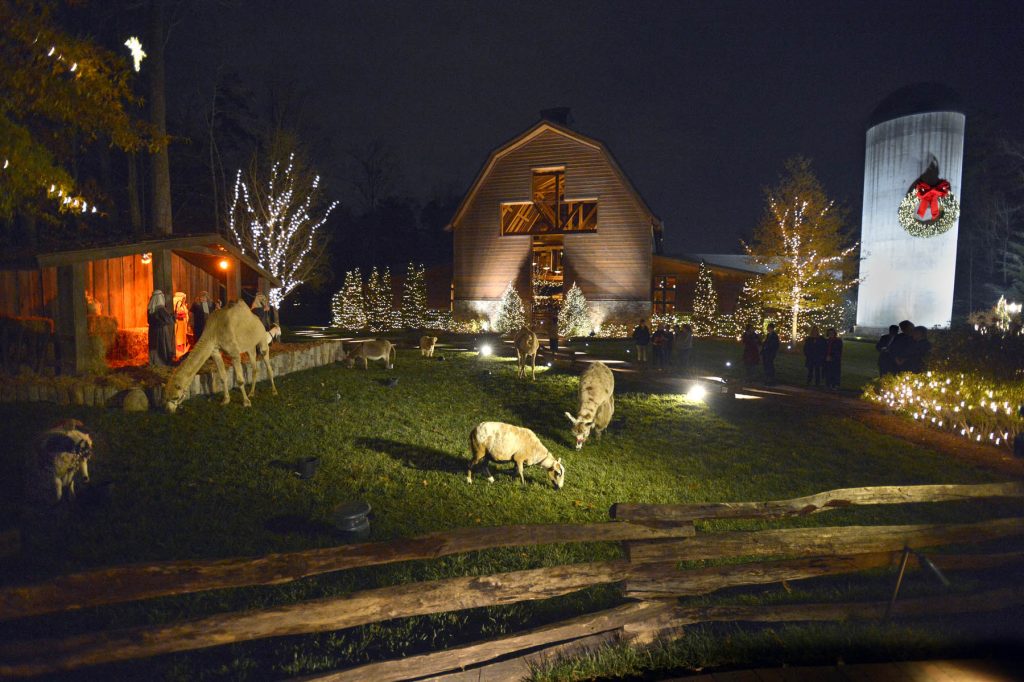 We know from Scripture that shepherds and their flocks of sheep were an important part of the Christmas story. They were the first to hear that the birth of Jesus Christ had taken place in a stable in Bethlehem.
8 And in the same region there were shepherds out in the field, keeping watch over their flock by night. 9 And an angel of the Lord appeared to them, and the glory of the Lord shone around them, and they were filled with great fear. 10 And the angel said to them, "Fear not, for behold, I bring you good news of great joy that will be for all the people. 11 For unto you is born this day in the city of David a Savior, who is Christ the Lord. 12 And this will be a sign for you: you will find a baby wrapped in swaddling cloths and lying in a manger." 13 And suddenly there was with the angel a multitude of the heavenly host praising God and saying,

14 "Glory to God in the highest,
    and on earth peace among those with whom he is pleased!"[a]

15 When the angels went away from them into heaven, the shepherds said to one another, "Let us go over to Bethlehem and see this thing that has happened, which the Lord has made known to us." 16 And they went with haste and found Mary and Joseph, and the baby lying in a manger. 17 And when they saw it, they made known the saying that had been told them concerning this child. 18 And all who heard it wondered at what the shepherds told them. 19 But Mary treasured up all these things, pondering them in her heart. 20 And the shepherds returned, glorifying and praising God for all they had heard and seen, as it had been told them. (Luke 2:8-20)

This year we have a flock of sheep—including the newest resident, who was born just days before the start of Christmas at the Library.
On Dec. 1, we welcomed all of the animals to the nativity and asked our Facebook Live viewers to help us pick a name for this little lamb. The name picked is appropriately fitting— her name is Noel!
The first Noel, the angel did say,
Was to certain poor shepherds in fields as they lay;
In fields where they lay keeping their sheep,
On a cold winter's night that was so deep.
Noel, Noel, Noel, Noel,
Born is the King of Israel.
They looked up and saw a star
Shining in the East, beyond them far;
And to the earth it gave great light,
And so it continued both day and night.
Noel, Noel, Noel, Noel,
Born is the King of Israel.
And by the light of that same star,
Three wise men came from country far;
To seek for a King was their intent,
And to follow the star wherever it went.
Noel, Noel, Noel, Noel,
Born is the King of Israel.
This star drew night to the northwest,
O'er Bethlehem it took its rest;
And there it did both stop and stay,
Right over the place where Jesus lay.
Noel, Noel, Noel, Noel,
Born is the King of Israel.
Then entered in those wise men three,
Full reverently upon their knee;
And offered there in his presence,
Their gold, and myrrh, and frankincense.
Noel, Noel, Noel, Noel,
Born is the King of Israel.
In addition to Noel, the Billy Graham Library nativity also includes two camels, a donkey, a four-horned Jacob sheep, a Scottish Highland cow, a llama, and a flock of sheep and goats. Not only are these animals part of the recreation of the birth of Christ each night, but they are also on display each day from noon to 2 p.m., where guests can come meet them, take photos and even interact with the animals.