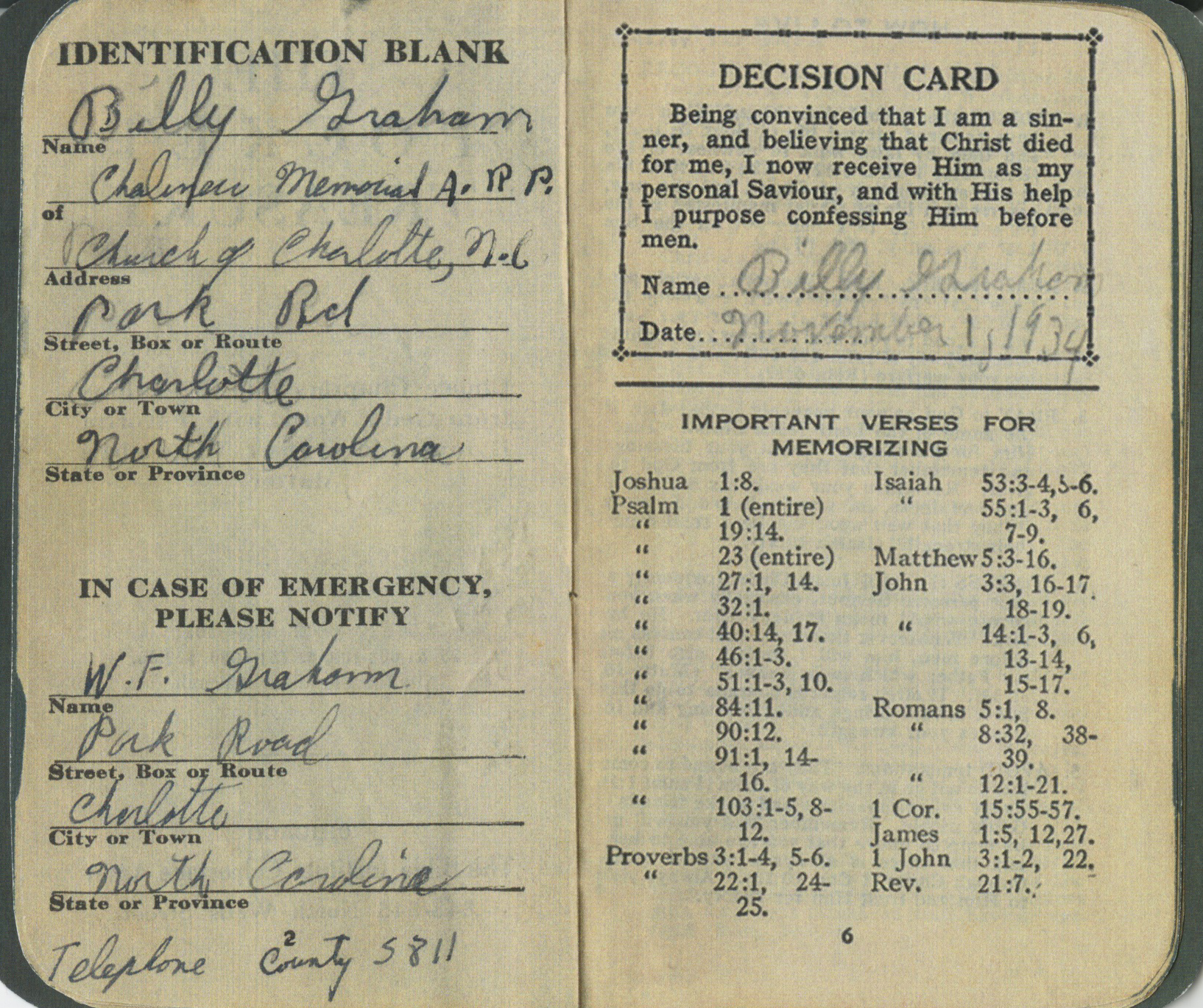 In his autobiography Just As I Am, Billy Graham writes of Dr. Mordecai Ham's revival meetings in Charlotte, NC, and the night he came to Christ.
As soon as the evangelist [Mordecai Ham] started his sermon, he opened his Bible and talked straight from his text. He talked loudly, even though there was an amplifying system. I have no recollection of what he preached about, but I was spellbound. In some indefinable way, he was getting through to me. I was hearing another voice, as was often said of Dwight L. Moody when he preached: the voice of the Holy Spirit.
I became deeply convicted about my sinfulness and rebellion. And confused. How could this evangelist be talking to me, of all people? I had been baptized as a baby…I had gotten into mischief once in a while, but I could hardly be called wicked. I resisted temptations to break the moral code my parents had so strictly instilled in me…I was even the vice president of my youth group in our church (although, granted, it wasn't a particularly vital organization).
On that night, Dr. Ham finished preaching and gave the invitation to accept Christ. After all his tirades against sin, he gave us a gentle reminder: "But god commendeth his love toward us, that that, while we were yet sinners, Christ died for us" (Romans 5:8). His song leader, Mr. Ramsay, led us all in "Just As I am" – four verses. Then we started another song: "Almost Persuaded, Now to Believe."
On the last verse of that second song, I responded. I walked down to the front, feeling as if I had lead weights attached to my feet, and stood in the space before the platform.
I checked "Recommitment" on the card I filled out. After all, I had been brought up to regard my baptism and confirmation as professions of faith too. The difference was that this time I was doing it on purpose, doing it with intention. For all my previous religious upbringing and church activity, I believe that that was the moment I made my real commitment to Jesus Christ.
Have you committed your life to Christ? To learn more about what it means to be a follower of Jesus Christ, visit www.peacewithGod.net.