November 10, 2014
Max Lucado Book-Signing: Nov. 19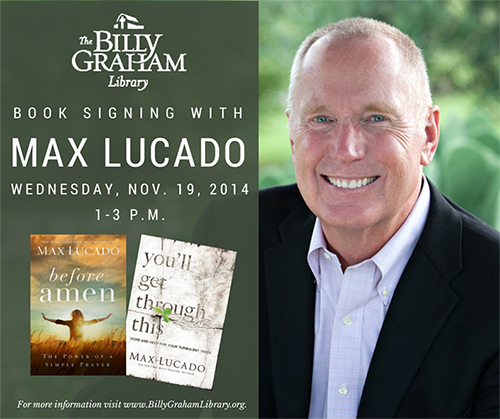 Join us Wednesday, Nov. 19 from 1-3 p.m. as we welcome award-winning author Max Lucado to the Billy Graham Library. Lucado will be signing copies of his latest books, Before Amen: The Power of a Simple Prayer and You'll Get Through This.
Read by more than 120 million around the world, Lucado's books have been translated in over 54 languages and have appeared on the New York Times, USA Today, Publishers Weekly and Christian Booksellers Association best-seller lists. With a heart for encouraging the brokenhearted, his mission is simple, "to overflow to others the grace and encouragement which has been lavished on him by God."
Max Lucado has served as pastor at Oak Hills Church in San Antonio, Texas for more than 25 years. He and his wife, Denalyn, have three grown daughters.
Select books will be available for purchase in Ruth's Attic bookstore, or you may bring your own. Limit of two signed items per person.