December 21, 2012
From the Perspective of our Volunteers
As Christmas at the Library enters its final weekend, we are blessed to share with you the perspectives of some of our volunteers. Without them, Christmas at the Library wouldn't be possible. It takes hundreds of volunteers to make this event happen, and to them, we all say "thank you." If you haven't been to see them in action, we hope you come out tonight or tomorrow night.
"It makes you feel like you were there the day Jesus was born."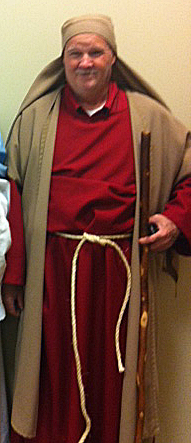 Tim Wilkinson held a secular job for 35 years. Now the Mint Hill, N.C., retiree is more likely to be found shepherding. Well, sort of. Tim started volunteering as a shepherd in Christmas at the Library's live nativity two years ago.
"It makes you feel like you were there the day Jesus was born," he said. "It also makes me feel close to the Lord." Some visitors don't know the story of Christ's birth and aren't sure what the nativity depicts.
Through volunteers like Tim, others can explain it. But they aren't the only ones blessed by the nativity. Tim recalls one night when a sheep got tangled under his feet. He got the sheep loose and thought about how Christ – the Shepherd of His flock – guides people where they need to be. He thought about how God freed him from his job, giving him time to volunteer at the Library and point others to Christ.
"Today's the only day we have to serve the Lord at the Library," he said. "Do what you can while you can."
A simple way to "share her faith"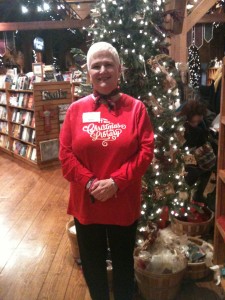 How can you meet people from Georgia, Maryland and New York while standing in one spot? Volunteer for Christmas at the Library!
Susie Laxton volunteers because it puts her in the Christmas spirit and reminds her why she celebrates. As a bookstore volunteer, she helps visitors pick out Christmas gifts, makes sure inventory is stocked and tells people the parable of the sower as they admire the sower statue in the middle of the bookstore.
She also hands out cards to the kids to teach them Scripture using the alphabet. It's a fun, simple way to share her faith with people from across the country.
"The Library is an atmosphere that my students appreciate…"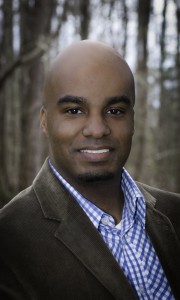 Abdullah Birdsong is a chorus director at West Mecklenburg High in Charlotte, N.C. "Community involvement and engagement are major parts of our vision," he said. For three years, Abdullah has led his students in singing at Christmas at the Library, which, unlike other performance venues, is "intensely religious."
"Before I bring my students to sing, I make sure to give them a brief lesson about Billy Graham and his influence on modern-day evangelical Christianity," Abdullah said. "The Library is an atmosphere that my students appreciate and reverence, especially those who have relationships with Jesus Christ."
The song "Betelehemu" is a favorite with the audience. The African carol tells the story of Christ's birth.