December 20, 2012
Elvis, SpongeBob and James Brown at The Library?
By Tiffany Jothen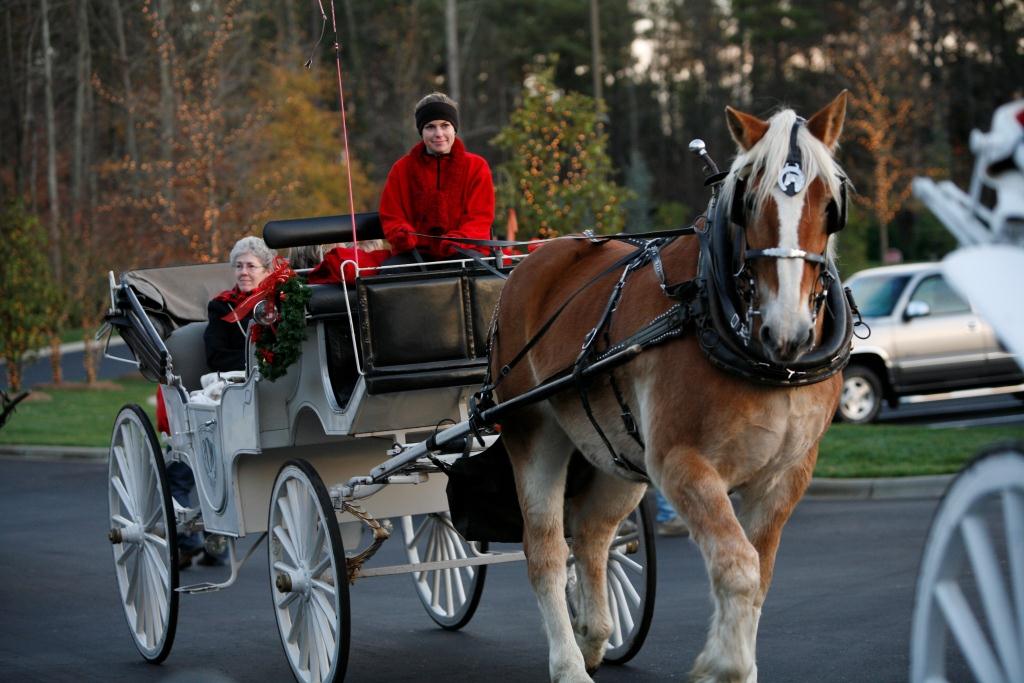 On a busy night in December, about 800 people will take a horse-drawn carriage ride around the Billy Graham Library. They take one of 10 Victorian-style carriages pulled by horses with names like Elvis, SpongeBob and James Brown.
Bridger Medlin owns Charlotte Center City Carriage Tours, which operates the carriage rides during Christmas at the Library. Medlin provides about 25 horses that take turns guiding visitors along lit paths around the Library.
"I don't know anywhere else where people will wait in line for two hours for a carriage ride," Medlin said, "and get on there with a smile on their face and say, 'Merry Christmas.'"
Weekends typically mean long lines at the carriage rides, but like one visitor said last weekend, "I don't care how long it takes; we're getting in that carriage." Some families make it a tradition, and some have family pictures taken in front of a decorated carriage on site.
The mood at the Library is always peaceful, Medlin said, and the passengers always appreciative. While each tour takes the same route – a 15-minute ride just over half a mile long – the horses lead visitors differently.
Remember Elvis?
"He's a prancer," Medlin said. "He likes to show off."
Another horse named Thriller can moonwalk. His teammate, James Brown, also needed a show name, and a horse named Lightning McQueen actually walks very slow. SpongeBob got his name from his long, square face.
Most of the horses used for the carriage rides come from Amish farms in Ohio. While they do work in the rain, they won't pull carriages during thunder, lightning, sleet or snow. By the time Christmas at the Library is over, the horses will have walked about 3,500 miles combined, even though none of them work more than five hours a day, four days a week.
Carriages hold only up to four passengers, Medlin said, so the horses aren't overworked. When they aren't pulling excited guests at the Library, they have 60 acres to roam around in Monroe, N.C.
Christmas at the Library ends Saturday, so time is running out to see these amazing horses in action. Click here for more information.