July 30, 2014
Book Signing with Todd Starnes on Aug. 9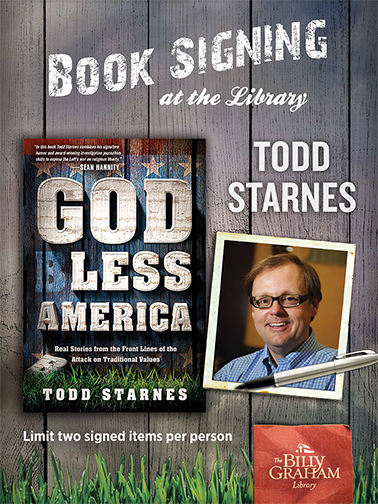 The Billy Graham Library is set to welcome author and FOX News correspondent Todd Starnes for a book signing on Saturday, Aug. 9. He will sign copies of his latest release, God Less America.
Throughout his journalism career, Starnes has covered a number of high-profile stories, taking him from Wall Street to the White House.
In a recent op-ed, Starnes said, "I have always looked to Billy Graham. God ordained him to be a light for our nation during this time in our history. As a child I watched Billy Graham Crusades on TV. The neighbors were watching the same thing. We seemed united during those times – as believers and as Americans."
Ultimately, Starnes believes that we needn't put our hope in politicians, preachers or the next generation: "True hope . . . happens at the foot of Calvary."
Todd Starnes will be signing books from 11 a.m. to 1 p.m.
• We will have select titles of Starnes' books available for purchase at Ruth's Attic Bookstore in the Billy Graham Library, or you can bring your own copies.
• There will be a limit of two signed items per person.
For more information about the book signing and other upcoming events visit billygrahamlibrary.org/events.