November 9, 2014
2014 Bible Reading Plan – November
Reading the Bible
"Why does the Bible remain a closed book to many? One reason is because we don't realize how much we need it. If I suggested you stop eating for a few months, you'd ignore me–and rightly so. We need food in order to survive, and without food we'll grow weak and eventually die. Yet many Christians are spiritually starved and weak because they ignore the spiritual "food" God has provided in the Bible. The Bible is not an option; it is a necessity. You cannot grow spiritually strong without it. Job said, "I have treasured the words of his mouth more than my daily bread" (Job 23:12, NIV). Is the Bible this important to you?
God gave the Bible to us because He wants us to know Him and love Him and serve Him. Most of all, He gave it to us so we can become more like Christ. Make the Bible part of your life–beginning today."
"Reading the Bible" by Billy Graham was first seen in Decision Magazine in June 2006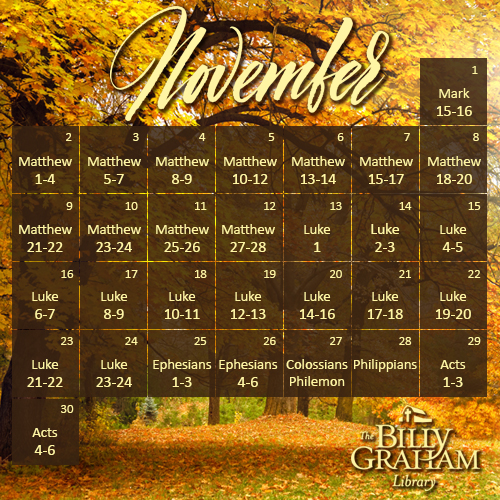 Find past months plans (January / February / March / April / May / June / July / August / September / October).