April 29, 2019
Mondays with Maury: Billy Graham's Favorites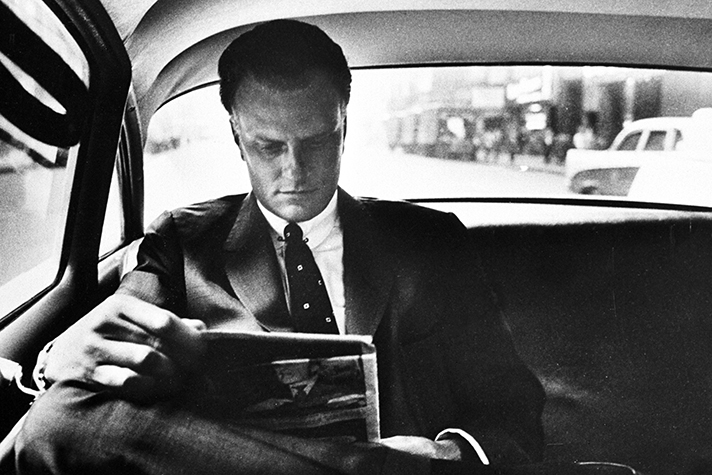 We recently asked Maury Scobee, Billy Graham's longtime friend and personal assistant for 40 years, if he could recall what some of Billy Graham's favorite things were. Here were his responses:
Q: What was Billy's favorite sports team?
A: I'm not really sure if he had a favorite, although I do remember in 1972 when he held a crusade in the Cowboys Stadium. That might have been the first time he met Coach Tom Landry, who became a good friend. I think after that he always enjoyed watching the Cowboys. He also really enjoyed watching the Panthers play, and he always wore a Panthers hat. The very first event in the Panthers' stadium was actually Mr. Graham's Crusade in 1996! That was a neat experience since it was in his hometown of Charlotte, North Carolina.
Q: What was Billy's favorite TV show?
A: The only thing on TV that he watched regularly was the nightly news. The TV was rarely on during the day. But with all his world travels, he wanted to keep up with the news around the world. He and Ruth enjoyed watching the news together during dinner.
Q: What was Billy's favorite meal that Ruth cooked?
A: I've only heard the stories, but on occasion, when there had been a roaring fire in the kitchen, and lots of coals on the floor of the fireplace, Mrs. Graham would place some large white potatoes to bake. Then she would also cook steaks and maybe a veggie like corn-on-the-cob. I'm not sure if this was his all-time favorite, but I've definitely heard the family talking about those meals.
Oh and a I can't forget! Mrs. Graham was THE BEST at making soups! Nearly all week, there was soup leftover on the stove from the day before. She added to the pot every day — creating a soup unlike anything she'd ever made before. She always said, "We don't make soup around here — it accumulates!"
Q: What were Billy's favorite hymns?
A: "Just As I Am"
"What a Friend We Have in Jesus"
"Complete in Thee"
"I'd Rather Have Jesus"
"And Can it Be"
Q: What was Billy's favorite Bible verse?
A: Galatians 6:14. "But God forbid that I should boast except in the cross of our Lord Jesus Christ, by whom the world has been crucified to me, and I to the world."