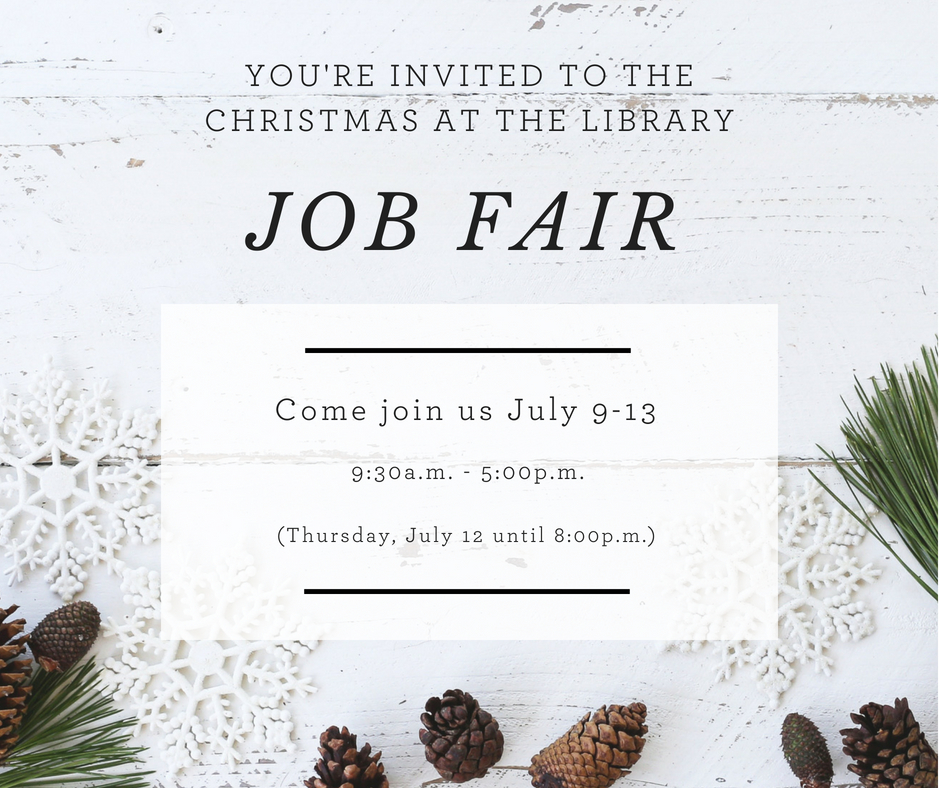 Thousands of people attend Christmas at the Library each December to celebrate the birth of Jesus Christ through joy-filled activities such as a live nativity, carriage rides and carolers. Since it began in 2008, more than 1,300 people have made decisions for Christ and more than 2,500 people have recommitted their lives to Him during Christmas at the Library. This year the Library is hosting our first annual Christmas at the Library Job Fair, which is the kick-off to this year's application process. We are seeking seasonal employees and volunteers to work throughout the month of December.
There are so many people that give their time serving at Christmas at the Library each year, and they all have a story of how God brought them here and how He impacted them during their time serving.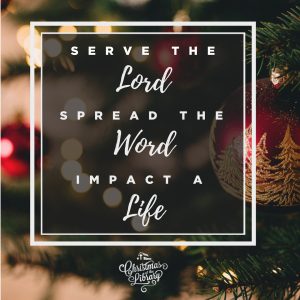 One of these volunteers, Diane Little, is going on her ninth year volunteering at Christmas at the Library. She said that serving at the Library in December has become her favorite Christmas tradition. She loves serving for many reasons, but two stick out among the rest. She loves the people and she loves sharing the Gospel.
"I love the people! The other volunteers, the visitors, the staff. I love showing God's love to all!"
When Diane first started volunteering, she would stay with her mother so that she could volunteer on her days off. When her mother became ill, Diane was overwhelmed with the support she received from the other Library staff in praying over her mother.
People like Diane make Christmas at the Library such a wonderful atmosphere—one of love. Diane said that she would "whole-heartedly encourage anyone considering volunteering to do so! It is a holy yet humbling experience that will completely fill your cup and bring amazing people into your life! You WILL be used by God, you will be blessed beyond measure."
Is Christmas at the Library an annual tradition of yours? Maybe this is the year that you decide to also play a role in making the experience great for others.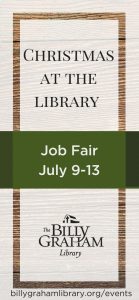 The event will be held on the back patio of the Billy Graham Library the week of July 9-13 from 9:30 a.m to 5 p.m. On Thursday, July 12, the event will stay open until 8:00 p.m. for those who are unable to make it during the day. Candidates who come and apply at this event will receive priority interviews and placement, as well as an entry to win the Grand Prize: a Christmas at the Library Family Fun Pack. In addition, a special gift will be given to the first 10 people who come and apply each day.
Volunteer positions include: Live nativity scene participant, carriage ride assistant, Children's Story-Time reader, bookstore associate, Graham Brothers Dairy Bar associate, guest & photo assistant, and greeter.
Seasonal job openings include: Guest services team member, Ruth's Attic bookstore associate, food services associate and parking attendant.
With your help, we can continue to impact lives with the Gospel and share with them the greatest gift they could ever receive this Christmas.