April 6, 2015
Volunteer Spotlight (And 95th birthday!) – April 2015
At the Library we are blessed to have volunteers serving in many roles, which include welcoming guests at the Graham Family Homeplace or at the entrance to the Library, assisting guests through the galleries or praying with guests in our prayer area.
Each month we recognize one of our volunteers and we want to share our appreciation of them with you.
Meet Thelma who was recognized in our volunteer spotlight for April 2015, and celebrates her 95-years-young birthday today (April 6).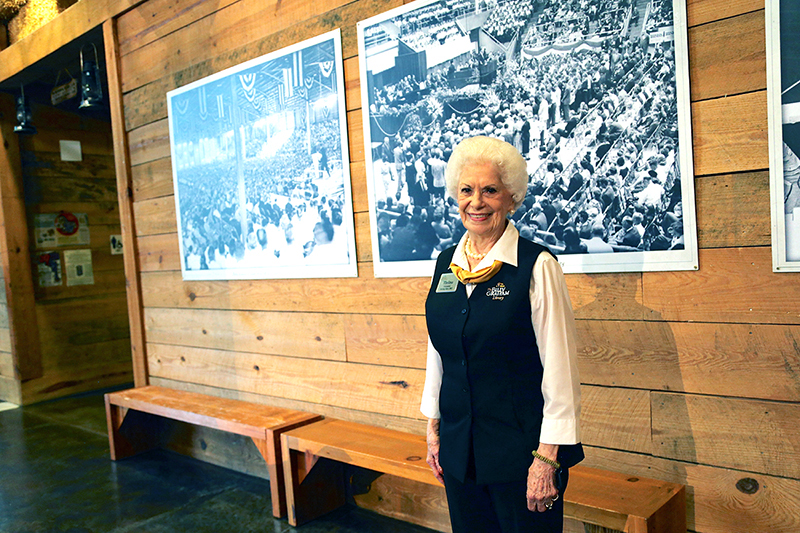 Ms. Thelma Hubbard was born on April 6, 1920. That makes this volunteer spotlight a special birthday celebration as well.
Thelma became a volunteer because she had been praying that God use her more; two friends brought her information about visiting the Billy Graham Library – the rest is history.
Ms. Hubbard recalled her favorite memory of the Library:
"Earlier the prayer room was where The Cross is now and Jean and I were serving there. Jean was called away and I prayed, 'Lord, many volunteers have been able to experience seeing souls receive Jesus for the first time and please use me today to lead a soul to you.' At the end of that prayer the doors opened and a couple asked how to be saved. Praise God!"
Thelma's favorite verses are Isaiah 55:8,9 and John 3:16.
Happy birthday, Thelma! May God continue to use you and bless you for His service.
Want to learn more about Thelma and the other volunteers at the Billy Graham Library? You can join them in being a volunteer. Learn more on our website.