June 28, 2013
Staff Picks from Ruth's Attic Bookstore: Celebrate America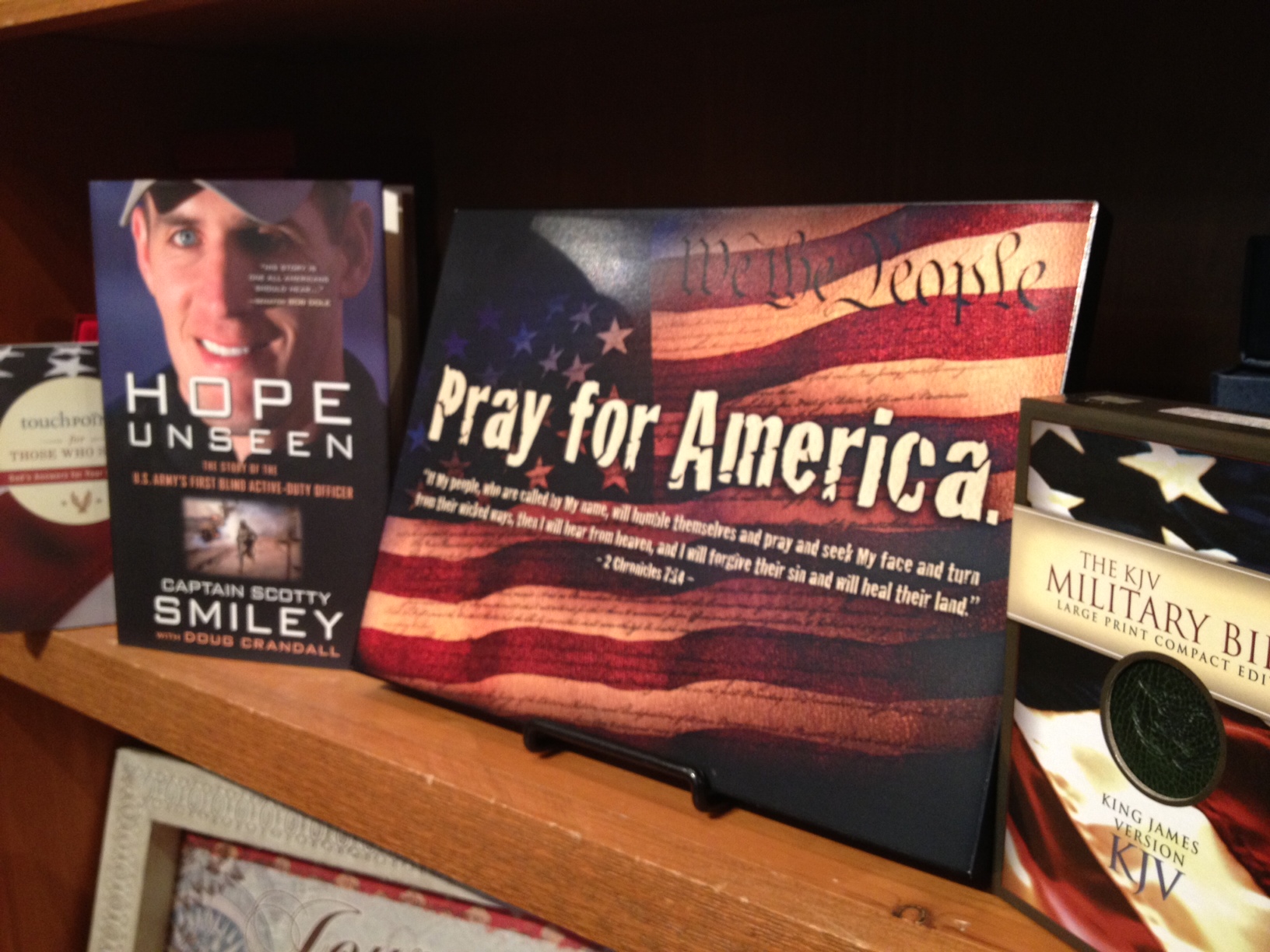 Touch Points for Those Who Serve
America's military men and women serving our country around the world are facing challenges unique to their personal and family situations. TouchPoints For Those Who Serve offers biblical counsel and encouragement on questions relevant to their lifestyle such as: Where do I get the courage to go on? Why is a sense of duty an important character trait? How do I demonstrate integrity? What are the qualities of a good leader?
TouchPoints For Those Who Serve puts God's answers to their most pressing questions right at their fingertips with words of encouragement, inspiration, and Bible promises on over 100 alphabetically-arranged topics on a wide range of issues relevant to any military person, of any rank. Each section starts with a question, then is exclusively answered with Scriptures, and ends with a biblical promise.
Hope Unseen: The Story of the U.S. Army's First Blind Active-Duty Officer
Blindness became Captain (now Major) Scotty Smiley's journey of supreme testing. As he lay helpless in the hospital, he resented the theft of his dreams–becoming a CEO, a Delta Force operator, or a four-star general. With his wife Tiffany's love and the support of his family and friends, Scotty's response became God's transforming moment. The injury only intensified his indomitable spirit. Since the moment he jumped out of a hospital bed and forced his way through nurses and cords to take a simple shower, Captain Scotty Smiley has climbed Mount Rainier, won an ESPY as Best Outdoor Athlete, surfed, skydived, become a father, earned an MBA from Duke, taught leadership at West Point, commanded an army company, and won the MacArthur Leadership Award. Scotty and Tiffany Smiley have lived out a faith so real that it will inspire you to question your own doubts, push you to serve something bigger than yourself, and encourage you to cling to a Hope Unseen.
Major Scotty Smiley will be the featured speaker for the Billy Graham Library Men's Breakfast on September 14, 2013. For information or tickets visit www.billygrahamlibrary.org.
The Bible might be called a library of freedom – not just temporal freedom but enduring freedom in the truest sense of that expression. Horace Greeley, founding editor of the New York Tribune, said "it is impossible to mentally or socially enslave a Bible-reading people.
For these perilous times, for the men and women who serve the cause of freedom around the world, Holman Bible Publishers is pleased to provide the KJV Military Bible in the large print compact format that is handsome, easy to carry, and designed to meet the specific needs of those who serve in the most difficult of situations.
Special features include the full text of the beloved King James Version, lyrics to patriotic songs and battle-themed hymns, transcribed prayers from past and present American military and political leaders, and more.