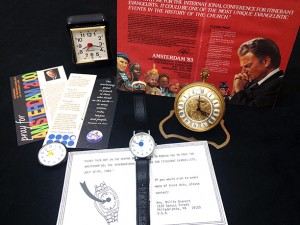 A new exhibit has opened at the Billy Graham Library called, "Rooted in Prayer – Biblical Truths for Everyday Living." It shares a glimpse into the heart of Billy Graham and over 70 years of ministry grounded in prayer.
"Prayer has always been essential to evangelism, and it remains the foundation of all we do at the Billy Graham Evangelistic Association," said Franklin Graham in a recent Decision Magazine article. "My father and I always have taken heart in knowing that our ministries are bathed in prayer – from our families, from our teams, from the churches in the communities we reach and from the worldwide Body of Christ."
"The men and women God has used have been men and women of prayer," Billy Graham once said. "Prayer is the most essential thing in my own life – praying and reading the Bible not just to prepare a sermon, but for my own spiritual growth."
In the mid-1970's, Billy Graham Crusade teams developed a tool called "prayer dots." Various colors of dots were used for different evangelistic events throughout the 70's and 80's and were hugely successful in the Amsterdam Conferences that took place in 1983 and 1986 – with nearly 800,000 to participants from 94 countries distributed for circulation in 1986.
"I once had a small blue dot stuck on the center of my watch," said Cliff Barrows, longtime friend of Billy Graham and a member of the original Billy Graham Crusade team. "I'd see it often all day, and I'd pray a flash prayer – it kept me God-conscious. Sometimes all I said, silently or out loud, was: 'Lord, we need You to move in this situation.'"
These dots, and several of the clocks they were placed on, are included in the items visitors will find on display in the "Rooted in Prayer" exhibit. Other memorabilia include:
Billy's personal diary used during the 1957 New York Crusade
A clock and watch used by the Grahams in Amsterdam in 1986
A lanyard, program, stock car replica and the prayer given by Mr. Graham from the 1999 Indianapolis 500
Billy's sermon and notes from the National Day of Prayer and Remembrance following 9/11
Prayer cards, brochures and letters from multiple Crusades
The exhibit runs from May through the end of June. Admission to this exhibit and to the Library is free. We hope to see you during your visit soon!