June 29, 2012
O Canada: 5 Memorable Canadian Billy Graham Crusades
As our neighbors to the north celebrate Canada Day this weekend (July 1), we wanted to look back at some memorable highlights of Billy Graham's ministry in Canada through the years. Billy Graham preached 13 Crusades in Canada, with countless more events taking place with associate evangelists. Today, Franklin Graham and Will Graham continue to spread the Gospel across Canada. Here's a look at some memorable Billy Graham Crusades that have taken place in Canada.
Toronto, Sept. 18 – Oct. 16, 1955
Billy Graham's first Canadian Crusade, held in Toronto at Maple Leaf Gardens, drew 356,000 people over the course of the meetings. Thousands made decisions for Christ during the month-long campaign. During this Crusade, legendary Crusade soloist George Beverly Shea – a Canada native – performed what would later become a signature song, "How Great Thou Art," for the first time. Both Shea, and "How Great Thou Art," were staples at Billy Graham Crusades in the 50 years that followed.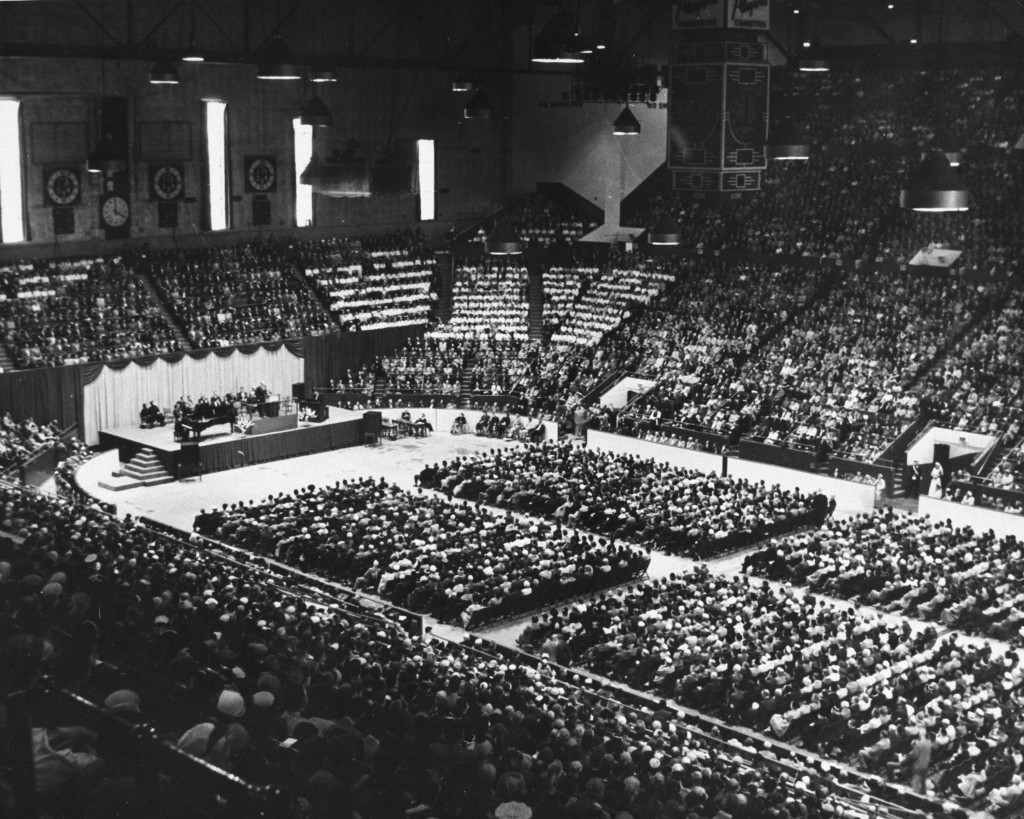 Toronto, June 11-18, 1978
In the month leading up to the event, Charette Barta Kvernstoen wrote in Decision magazine:
Toronto is not the same city it was 23 years ago when Billy Graham first held a Crusade there. Since 1955 Toronto has doubled in size and today has a population of more than four million people in the metropolitan area. The Italian population alone numbers more than 425,000 in Toronto…The Crusade comes to a cosmopolitan city, a city proud of its heritage, a city based on being a cultural mosaic rather than a melting pot. That mosaic is formed as people maintain their individual ethnic identities. As one man put it, "Billy Graham doesn't have to go to Italy to reach an Italian population. He can do it here in Toronto."
During the week-long Crusade, 209,000 people attended, with more than 9,000 making a commitment to Christ.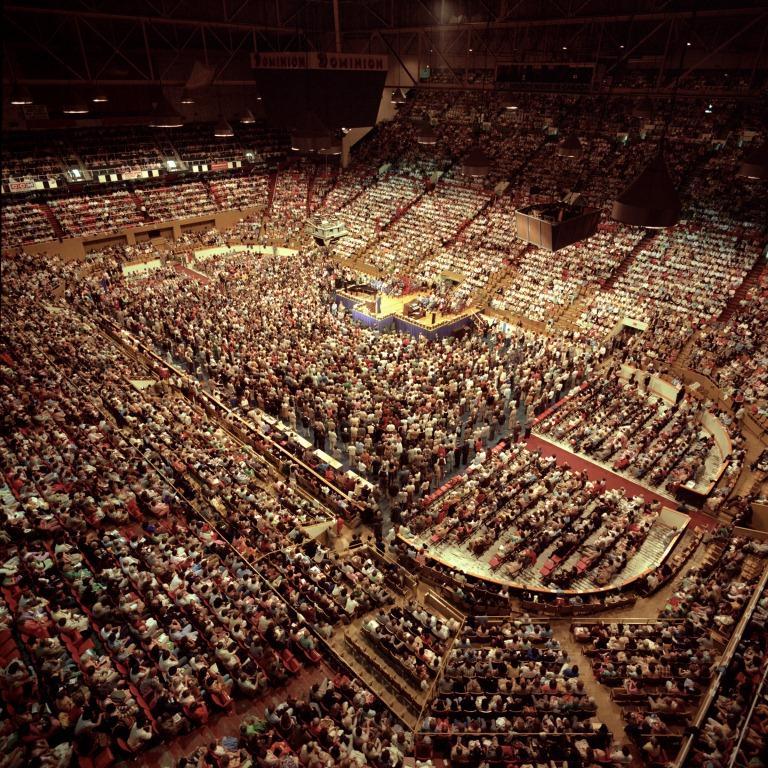 Calgary, Aug. 23-30, 1981
As Alberta's Premier, the Honorable Peter Lougheed, welcomed Billy Graham to southern Alberta, he said to the people, "Your presence in such numbers is evidence of your great respect for Billy Graham and for his message. It is a message of hope which he has brought to people all over the world – a message challenging us to a personal and life-changing faith. It is our searching for this faith that has brought us together. We are experiencing difficult times in our nation. I hope we can include in our thoughts the awakening asked of us by Billy Graham."
Commenting on the need for the Crusade, The Calgary Sun newspaper editorialized, "The evangelist isn't selling anything except belief and hope. People who don't accept what Graham is teaching will at least think about his moral and ethical approach to life. Our city is experiencing a surge in marriage breakups, suicides and crime. Graham may have come at just the right time."
The Crusade drew 164,000 people to McMahon Stadium; more than 7,000 left the Crusade with new lives in Christ.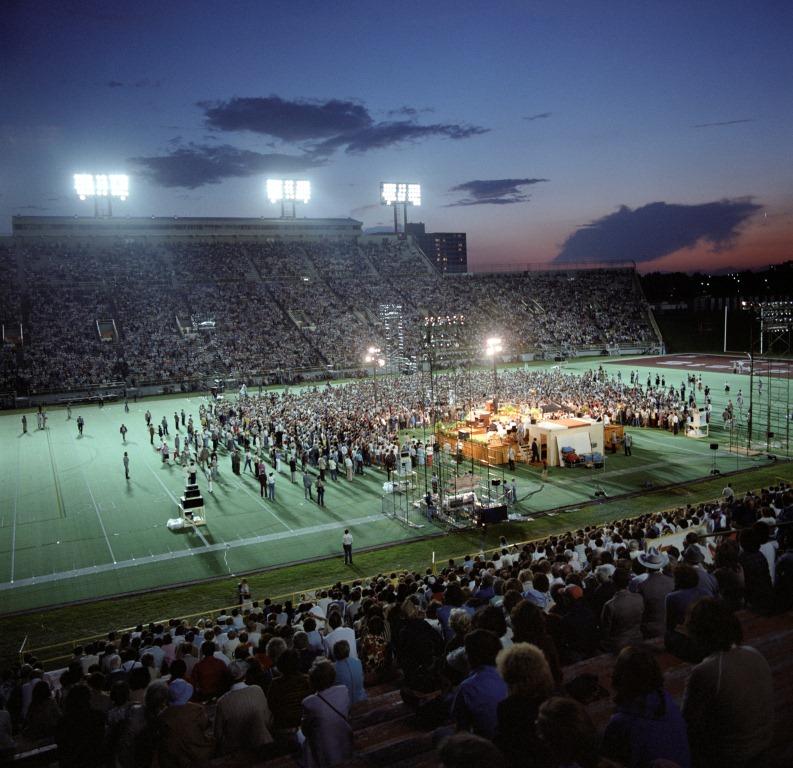 Vancouver, Oct. 14-21
During the week-long Crusade, Billy Graham preached a sermon entitled "Peace and Security."
"You're not just a body or a mind. God created you with a spiritual nature also. And, that's one reason why I believe that the only real source of lasting personal security is God Himself. Only in Him do we find out who we are, why we are here and where we are going. As a person comes to know God in a real and personal way, he becomes truly secure. Personal security includes a sense of inner peace, peace with God, peace with oneself, peace with our fellow men."
That week, more than 229,000 attended; more than 10,000 found peace, committing their lives to Christ.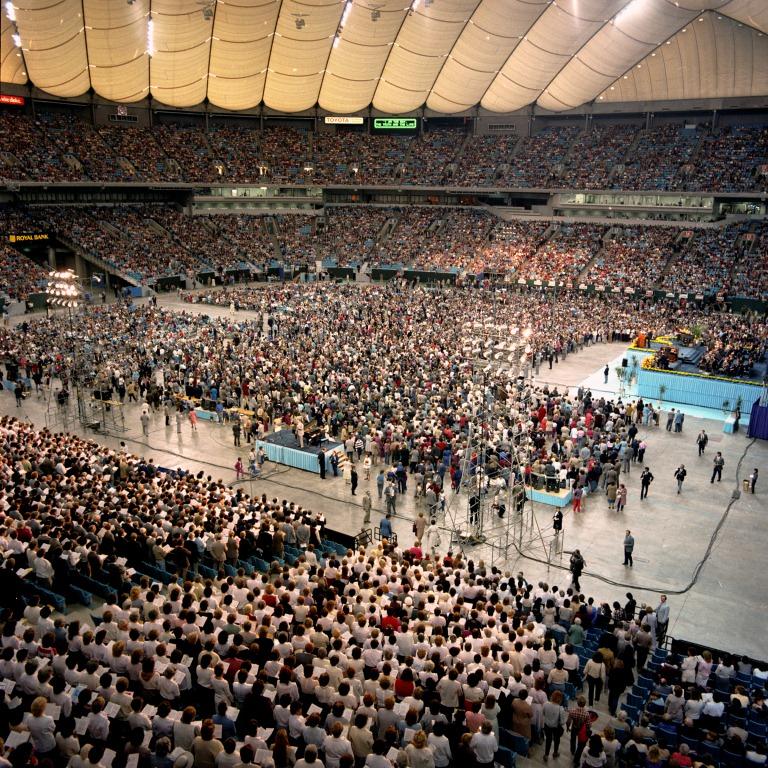 Toronto, June 7-11, 1995
Roger Palms writes of the Crusade in the September 1995 issue of Decision magazine:
People in southern Ontario saw firsthand the powerful evidence of the sovereignty of God. They saw it Wednesday, June 7, at the beginning of Mission Ontario with Billy Graham, and they saw God work right through to the concluding meeting on Sunday. They saw what God did in answer to the faithful prayers of believers.
The Crusade, which drew 261,500 over the course of five days, broke SkyDome records. With Toronto being one of the most culturally diverse cities in the world, each night's message was translated into 16 languages at a time.