December 22, 2014
Mother and 4 Kids Accept Christ During Christmas at the Library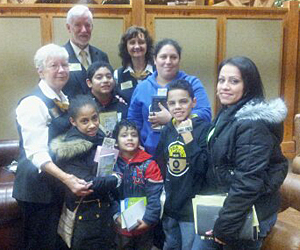 A Charlotte mother and her four kids hadn't been to church since they moved from Peru to the United States about 14 years ago. But a week ago, they walked into the Billy Graham Library at the invitation of a family friend. The friend had invited the family several times, including one special invitation to Charlotte's No. 1 attraction: Christmas at the Library.
"She decided to come because her friend told her it was a fun place at Christmas," Raquel Arbogast said.
Raquel is a volunteer coordinator at the Library, where she's typically found working in the back offices. But that night, she was called to the Library's prayer room to help translate for the mother, who doesn't speak English.
When Raquel first met the woman, "her eyes were watering (and) she was kind of overwhelmed," she said.
The woman had just gone through the Library's Journey of Faith tour, which chronicles the life of Billy Graham and presents the Gospel Mr. Graham has so faithfully preached for decades. Although the woman doesn't speak English, she understood enough of it in the tour's final exhibit to know that she wanted to make the same decision for Christ that others talk about in an exhibit video.
As Raquel explained salvation to her in Spanish, she realized that a boy nearby was also accepting Christ—and he was the woman's oldest son. Not only that, but other Library volunteers were having conversations with the woman's other children.
In the end, the woman and all four of her boys—ages 5 to 12—left the Library that night with a new faith in Christ.
While the woman hadn't expected to make such a big decision that night, "she was more surprised about all her kids coming to Christ," Raquel said.
Before the family left, they gathered in a circle with some Library volunteers to say a final prayer before the Library closed for the night. Raquel encouraged the woman to take her kids to church and made sure each of them received a Bible. The woman received a Bible that has both Spanish and English translations so she can go through it with her children.