December 9, 2011
Life-Changing Encounters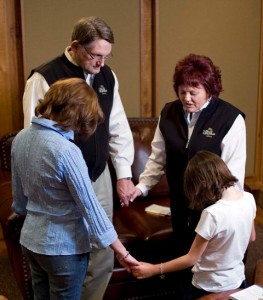 Christmas is a time for miracles, and what greater miracle than for a person's heart and life to be radically changed by Jesus Christ.
Since Christmas at the Library started on December 1, thousands of people have visited the Library for the festivities. But, for many, a fun holiday outing turned into a life-changing encounter. Since December 1, 23 people have made the decision to accept Christ after touring the Library, and 40 have rededicated their lives to Him!
On Thursday, December 2, two neighbors who had been friends for many years, came to the Library together and took the Journey of Faith. When they finished the tour, Teresa, a Library volunteer, had the opportunity to pray with one of the women after she made her profession of faith.
"She knew she did not know Christ as her savior … She said she was baptized but never knew what she learned and received tonight as the Holy Spirit prompted her to give her life to Christ." Teresa shares. "We prayed and cried together for joy!"
Do you know someone who needs to be encouraged in their faith and receive a Christmas miracle? Come take a walk through the Journey of Faith at the Library … where lives are changed every day, even when it's not Christmas!