November 18, 2013
It's beginning to look a lot like Christmas!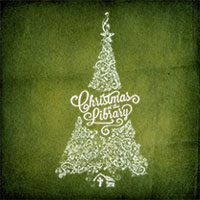 The Billy Graham Library staff and volunteers have been busily preparing for Christmas and we are anxiously awaiting all of our guests during the sixth annual Christmas at the Library festivities.
Beginning Dec. 2-23, the Library will open its doors for extended hours Monday through Thursday, 9:30 a.m. to 9 p.m., and Friday and Saturday, 9:30 a.m. to 10 p.m. Christmas activities begin at 5 p.m. and include:
Horse-drawn carriage rides
Christmas story time for children
Live music from carolers
A large, ornamented Christmas tree in the Billy Graham Library lobby
A live Nativity, depicting the very first Christmas night
A beautiful display of lights
Traditional Christmas dinner
In addition, guests can also enjoy "The Journey of Faith" tour which is open year-round, shopping in Ruth's Attic bookstore and special seasonal treats available at the Graham Brother's Dairy Bar.
---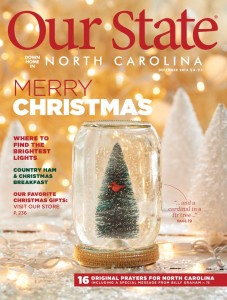 To kick-off the Christmas celebration, Our State magazine will be launching their
December issue featuring Billy Graham's "A Prayer for North Carolina" on Thursday,
Nov. 21 from 10 a.m. to 3 p.m. Library visitors can stop by and meet the staff of Our State, hear a reading of Mr. Graham's prayer and receive a complimentary issue of Our State's December issue.
---
The Billy Graham Library will host its first Ladies Night Out featuring Casey Schutrop author of Grandma's Christmas Legacy: The Testimony of the Tree, on Friday, Nov. 22. "Christmas is celebrated around the world with a rich array of traditions. Isn't it interesting when we look at all the decorations of Christmas, they have stories and meaning behind them – the wreath speaks of hospitality, the candy cane reflects the shepherd's' staff, and the stocking symbolizes providing for those without." Schutrop shares a unique presentation of how the Christmas tree represents new life and the greatest Christmas gift of all. This event is sold out, but the Grandma's Christmas Legacy is available in Ruth's Attic.
---
Former governor of Alaska, Sarah Palin, will be at the Billy Graham Library to sign copies of her new holiday book, Good Tidings and Great Joy: Protecting the Heart of Christmas from 10 a.m. to noon on Friday, Dec. 6. Her book examines the roots of Christianity in American society and the true meaning of Christmas. It is a call to action to readers to defend and openly celebrate the joys of their Christianity, and to say to one another, "Merry Christmas!"
Customers MUST have a wristband to attend the event. A limited quantity of wristbands will be distributed beginning Friday, Nov. 18 at the Billy Graham Library with the purchase of a reserved copy of Good Tidings and Great Joy while supplies last. No outside books will be allowed. Wristbands and receipt of purchase are required for access to the book-signing. No exceptions. No refunds. Limit 4 (four) books signed per person.
---
Tickets are still available for the sixth annual Teddy Bear Tea. Designed for children ages 5 and up, the Tea will take place on Dec. 7 from 2 to 3 p.m. at the headquarters of the Billy Graham Evangelistic Association. Guests will enjoy holiday treats, festive entertainment and a plush Library stuffed animal to take home. Cost is $20 per child. Advance reservations are required by Dec. 2 by calling (704) 401-3256.