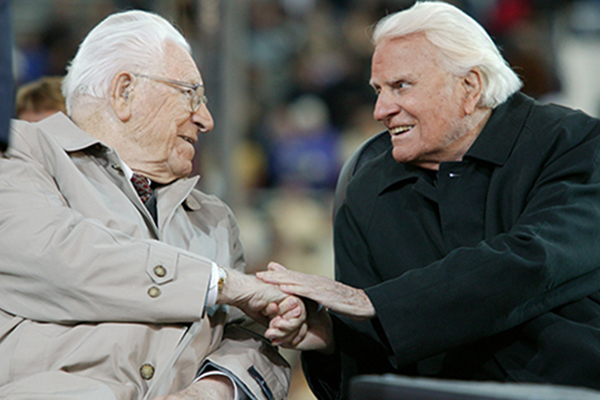 The thing that impressed me most about Bev from the very beginning of our long association, was the life he lived behind the scenes. His humility was genuine. His walk with God was sincere. He really meant what he sang!
I have seen Bev under pressure time after time. I have watched him in almost every conceivable circumstance – from the battlefields of Vietnam to the largest stadiums in the world. He always remains calm, unruffled and devotional.
One of the characteristics that makes Bev Shea unique as a singer is that he sings a sermon. Many other singers are more spectacular, but he is in a class by himself when it comes to worshipful singing. In the early days of our relationship, before Cliff Barrows joined us, people would come to hear Bev Shea sing, and I had an opportunity to preach to the crowds that came to hear him.
Through all of this nearly quarter of a century association our friendship has grown. His ministry of song has circled the globe. His singing is heard on radio and television and recordings all over the world. We receive reports constantly of people whose lives have been changed through the sermons in song that Bev sings.
-Written by Billy Graham in 1968 as the introduction to George Beverly Shea's book Then Sings My Soul.
You can learn more about George Beverly Shea in our new exhibit: "How Sweet the Sound: A Tribute to George Beverly Shea." It opens Friday on Mr. Shea's 104th birthday. Come by the opening week and you can send him well-wishes by signing a special birthday banner.