December 15, 2011
Did You Know?
We are about midway through our fourth year of Christmas at the Library. If you've had the chance to visit during this special season, you know the feeling of peace that comes to you as you enter the grounds, experience the magic of a tranquil carriage ride through the lights, or see the wonder in a child's eyes as they gaze upon the animals near the straw-filled manger.
A lot of work goes into making Christmas at the Library a unique and inspirational experience. Last year, more than 55,000 people visited the Library in December and this year is shaping up to top that number.
We thought you'd like to know some of the interesting facts about this annual event.
More than 400 seasonal volunteers are needed to help with the increase in guests.
The animals for the live Nativity come from Sam's Path Petting Zoo in Harwell, GA. Returning from last year: Tennessee, the camel; Benji, the donkey; Noggles, the white goat; Amanda, the black goat; The Twins, two sheep. New this year is Blondie, a Scottish Highlander; Bruce and Zac, the yaks; and Ochi, the llama. The animal handlers are Jodi (the owner), Missi and Jerry. You can see the live Nativity from 5-10 p.m., but you can also come to pet the animals from 12-2 p.m. every day.
To put on the live Nativity requires at least 10 people every night to play Mary, Joseph and two shepherds. They change shifts every 50 minutes.
Our carriage rides are provided by Southern Breezes Carriages. Every night, it takes about six hours to prep the horses and carriages before the first ride. The festively decorated carriages are vis-à-vis style, which means face-to-face in French.
We run five carriages from the 1st to the 8th and from the 9th to the 23rd, there are 10 carriages running each night. The drivers are Travis, Larry, Dale, Justin, Roger, Big Eagle, Scott, Daniel and Jerry. The horses are either Belgiums, Percherons, Clydsdales or Spotted Drafts and their names are Ted, Rocky, Jake, Elwood, Susan Boyle, Charlie, Duke, Justice, Georgia, Mel, Smokey, Popper, Butterfinger, Sponge Bob, Laverne, Shirley, Sally, and Molly. No horse works more than four days a week and never longer than a five-hour shift.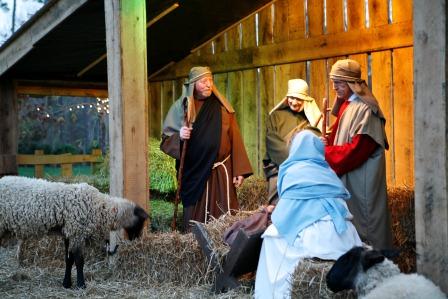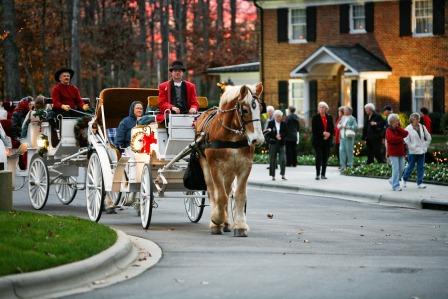 Carriage rides at Christmas at the Library
Yes, it's a big undertaking, but we are always excited to see the Library grounds filled with people who have chosen to make the Billy Graham Library a destination for celebrating Christmas. Please keep our staff, the volunteers and the animals in your prayers during this busy time!