THEN: Billy Graham's 1959 Southern Cross Crusade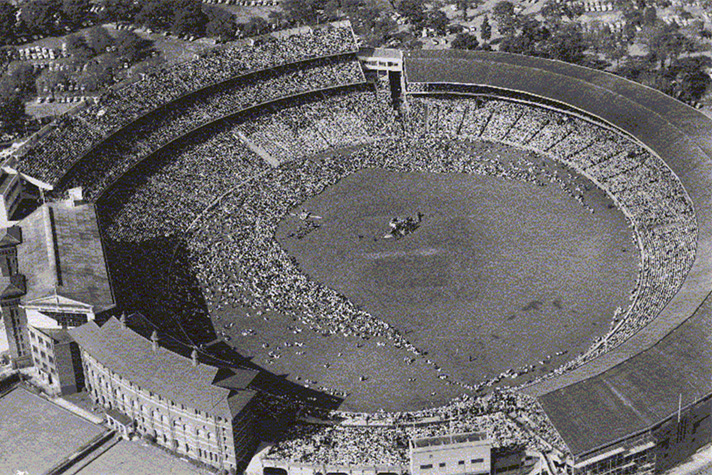 Sixty years ago, in 1959, Billy Graham launched a four-month tour of evangelistic events across Australia. More than 3 million people—nearly a third of Australia's population at the time—attended a Crusade event that year.
At the beginning of his tour, Billy Graham held his events in an indoor stadium, but the crowds were too large to keep meeting there. After trying multiple venues, they ended up holding the final Melbourne event at the Melbourne Cricket Grounds (MCG), a massive outdoor arena and former Olympic venue that is still the largest stadium in the Southern Hemisphere. Two hours before the event, the directors of the Cricket Ground were predicting a crowd of 50,000 people. But a short time later, the manager of the venue sent word that the stadium—capacity 105,000—was full. They actually opened the gates and allowed the crowd to invade the cricket pitch meant only for the players.
It's estimated that 140,000 people heard Mr. Graham share the Gospel of Jesus Christ that night. It broke the attendance record for the MCG, and the record still stands.
NOW: Franklin Graham's 2019 Graham Tour
To commemorate the 60th anniversary of his father's historic tour, Franklin Graham will share the Gospel in six cities from one end of the continent to the other from Feb. 9-24. He will share the Good News of Jesus Christ—a message that can change the hearts of men and women and bring hope and healing to the nation.