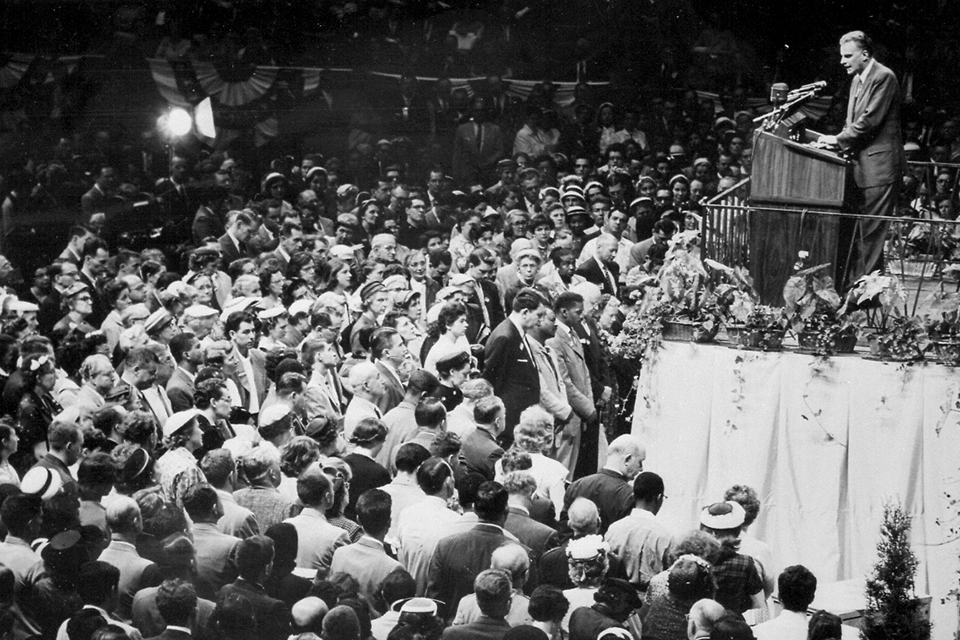 Written by summer intern, Abby Bowen.
For most of us, the month of July just means the middle of summer. We've settled into the routine of picnics and pool parties, BBQs and baseball games. Fall is just around the corner, but you wouldn't know it was coming considering the heat that most of us experience this time of year.
For Billy Graham, the month of July also meant another opportunity for evangelism. His ministry was year-round and continued through the summer months.
Sixty-two years ago this month, during the 16 week-long crusade in New York, Billy held a special lunch-hour meeting. In the middle of the towering buildings, a crowd of secretaries, clerks, and financiers gathered to hear Billy share the Gospel. Taking lessons from previous Crusades, he brought the message directly to the people and met them in their space. This gave businessmen and women a chance to hear Billy Graham preach in the middle of a work day—an opportunity they wouldn't otherwise have had.
Billy's public appearances spread far and wide. He rarely turned down an opportunity to share the Gospel with an audience, even if it meant making an appearance on a TV program that held beliefs different from his. In July of 1969, Woody Allen invited Billy to be a guest on his TV special. The two were an odd pair with opposing viewpoints on most of the big topics. However, the show was filled with friendly banter between two men who took equal opportunity at jokes about the other person. Billy Graham stayed true to form the whole time and shared the Gospel at every opportunity, referring to Bible verses when Woody asked questions about controversial issues.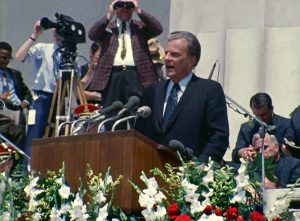 July 4, 1970, was a special occasion for Billy to spread the Gospel. A crowd of around 20,000 people gathered in front of the steps of the Lincoln Memorial to hear his "The Unfinished Dream" speech. Billy was the main religious speaker for the Honor America Day, which was organized in order lift America's patriotic spirit during the Vietnam War. Calling for unity and commitment to our nation, Billy stated, "We're not only here today to honor America, but we're here as citizens to renew our dedication and allegiance to the principles and institutions that made her great." Billy's speech recognized that the racial divide was taking its toll on the citizens of the U.S. and he wanted to address it in a way that brought people together.
>>You can watch a portion of his speech here.
A significant personal event in Billy Graham's life also took place in July. On July 14, 1952, Billy's son, Franklin, was born. Not only was it a joy for the family to welcome a son into their midst, but it would later come to mean Billy's work as an evangelist would be continued through his son.
These stories represent a small portion of the broad spectrum of Billy Graham's ministry.
Billy was first and foremost dedicated to God, but he also had a heart for people and he wanted to reach their hearts by any means possible. So, if that meant holding a special lunch-hour meeting or being a guest on a talk show, Billy didn't hesitate to take an opportunity to share the Good News with more people.
These snapshots of Billy's ministry point to the work that God was able to do through him all year round.