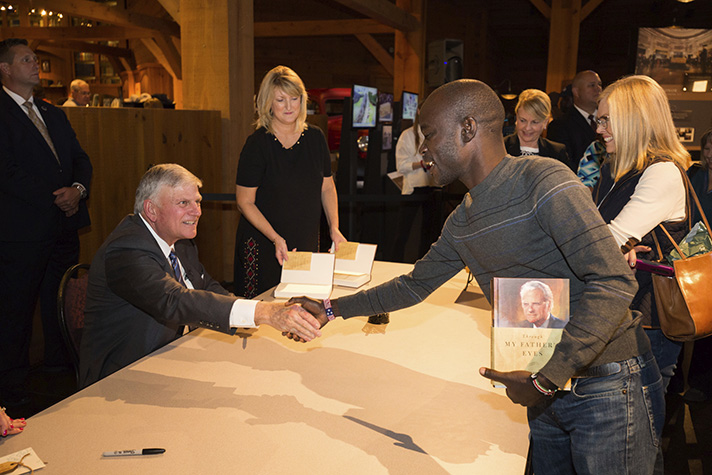 One hundred years ago, the man who would become known as the "evangelist to the world" and "pastor to presidents" was born on a dairy farm in Charlotte, North Carolina.
But in his hometown on Wednesday, Billy Graham was remembered by family members and ordinary people who loved him and his legacy of sharing the Gospel.
More than 800 people lined up outside the Billy Graham Library to meet his son, Franklin Graham; share a quick Billy Graham story; and get a copy of Through My Father's Eyes autographed. Franklin visited with people and signed copies of the book he wrote to honor his father.
The younger Graham began working on the book after his mother, Ruth Bell Graham, passed away in 2007. He finished it shortly before his father went to heaven on February 21, 2018.
"These are lessons I've learned from my father but also my heavenly Father," Franklin Graham told those gathered. "These are lessons on Scripture that apply to all of us."
The tribute book, which was released in May, shares personal memories, anecdotes and powerful insights on the impact a godly father can have.
"I think I'll miss my father all the days of my life," Franklin Graham added. "There's not a day that I don't think about him at some point during that day.
"I ask myself, 'What would my father say about this? What would my father think about this?'"
Franklin Graham continues his father's ministry, serving as president and CEO of the Billy Graham Evangelistic Association (BGEA).
'We're Celebrating His Birthday Tonight'
Flo Mazarakis waited eagerly in line to get her copy of Through My Father's Eyessigned. Her history with the BGEA goes back 13 years, when she served as a prayer volunteer at Billy Graham's 2005 New York City Crusade.
Mazarakis was nervous about going to the Big Apple, so she prayed hard. "With tears streaming down my face, the Lord gave me the courage to be an altar-call counselor," she said. That night, Mazarakis volunteered alongside a BGEA staff member, whom she later married. "God blessed me with a husband that is much more than I could have ever asked or imagined," she said. "We say there were 10,000 salvations [from the Crusade] and one marriage."
Her special fondness for Billy Graham's ministry didn't end there. A baker, Flo made coconut pound cakes for the evangelist's birthday six years in a row, calling it "one of my greatest honors and privileges other than knowing Jesus Christ."
The couple really misses the evangelist. "We're planning on going out and still celebrating Dr. Graham's birthday tonight because we found a place that makes really good coconut cake," she smiled.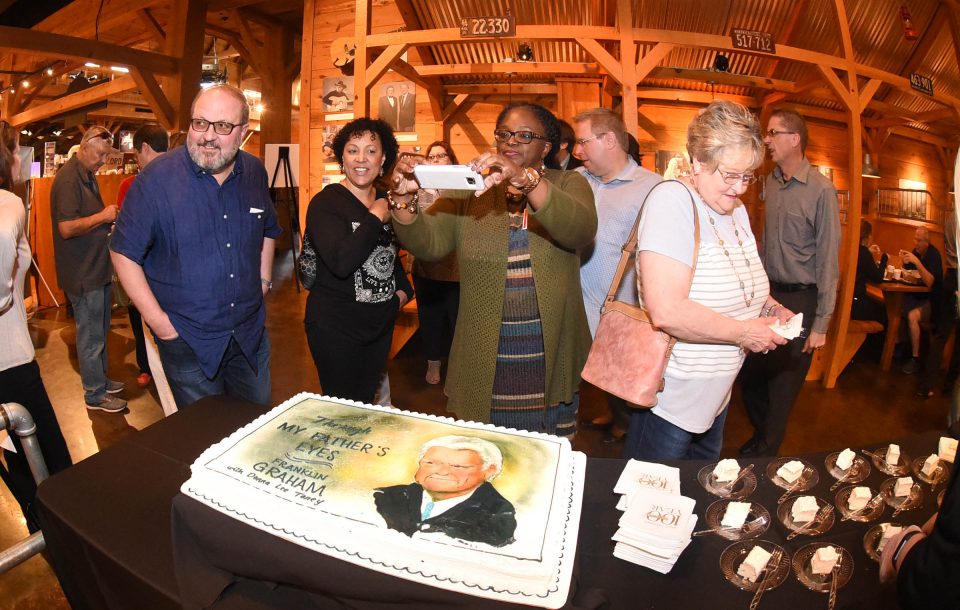 'I Can't Wait to Meet Him in Heaven'
Ken Poindexter of nearby Iredell County, North Carolina, comes to the Billy Graham Library often because of what Billy Graham represents—the Gospel of Jesus Christ.
Wednesday, he came to honor the evangelist and thank his son, Franklin. "What he is doing and what the Billy Graham Evangelistic Association is doing is actually transforming lives.
"He is making a difference in people's lives in this country and in the world," Poindexter remarked.
The entrepreneur heard Franklin Graham preach at the last stop of the Decision America Tour in Raleigh, North Carolina, in 2016. After hearing Franklin encourage Christians to run for office and stand for Biblical values, he took it seriously. On Tuesday, Poindexter was elected to his county's Board of Education.
"It made me take a stand at 61 years old," he smiled.
He has admired what the BGEA stands for since he attended all three nights of a Billy Graham Crusade in Charlotte, North Carolina, in 1996.
"I don't think I've ever felt a more powerful presence of the Holy Spirit as I did those days in the stadium," Poindexter recalled.  "It was like I was plugged into electricity."
"I can't wait to meet Billy Graham in heaven. I'm really excited about getting there and getting to spend some time with him."
Throughout his life, Billy Graham preached the Gospel of Jesus Christ to some 215 million people who attended one of his more than 400 Crusades, simulcasts and evangelistic rallies in more than 185 countries and territories. He reached millions more through TV, video, film, the internet and 34 books.