Billy Graham was known as an evangelist to world leaders and presidents, yet he also spent time sharing the Gospel in villages, towns, and cities across the globe. From the Cold War to Vietnam to 9/11, Billy Graham would be a voice of hope during crisis, preaching to more than 215 million people during more than 70 years of ministry. Over the next few weeks we will be sharing some of these messages.
The message below was given by Billy Graham at the "Honor America Day" service from the steps of the Lincoln Memorial in Washington, D.C., on July 4, 1970 – 40 years ago.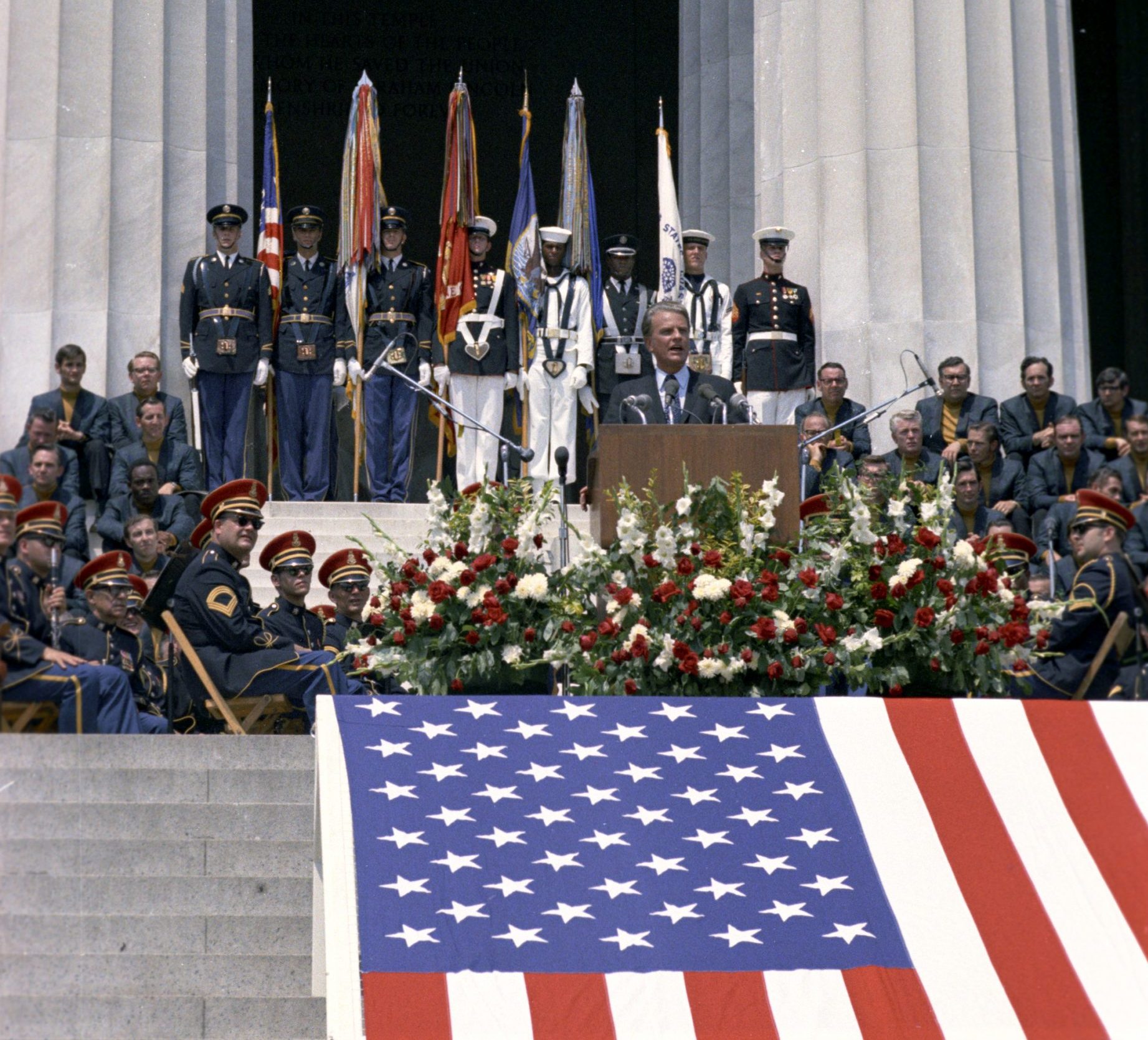 America
Today, in the Capital of the United States, thousands of us have come together to honor America on her 194th birthday.
We are here today not only to honor America but also as citizens to renew our dedication and allegiance to the principles and institutions that made her great. Lately our institutions have been under attack: the Supreme Court, the Congress, the Presidency, the flag, the home, the educational system, and even the church-but we are here to say with loud voices that in spite of their faults and failures we believe in these institutions!
Let's let the world know that the vast majority of us still proudly sing: "My country, 'tis of thee, sweet land of liberty, of thee I sing." America needs to sing again! America needs to celebrate again! America needs to wave the flag again! This flag belongs to all Americans–black and white, rich and poor, liberal and conservative, Republican and Democrat.
There is too much discouragement, despair and negativism in the nation today. On every hand critics tell us what is wrong with America, where we have failed, and why we are hated. We have listened and watched while a relatively small extremist element, both to the left and the right in our society, have knocked our courts, desecrated our flag, disrupted our educational system, laughed at our religious heritage, and threatened to burn down our cities-and are now threatening to assassinate our leaders.
The overwhelming majority of concerned Americans-white and black, hawks and doves, parents and students, Republicans and Democrats-who hate violence have stood by and viewed all this with mounting alarm and concern. Today we call upon all Americans to stop this polarization before it is too late-and let's proudly gather around our flag and all that it stands for.
Many people have asked me why I, as a citizen of Heaven and a Christian minister, join in honoring any secular state. Jesus said, "Render unto Caesar the things that are Caesar's" (Matthew 22:21). The apostle Paul proudly boasted that he was a Roman citizen (Acts 22:25-28). The Bible says, "Honor the nation." As a Christian, or as a Jew, or as an atheist, we have a responsibility to an America that has always stood for liberty, protection and opportunity.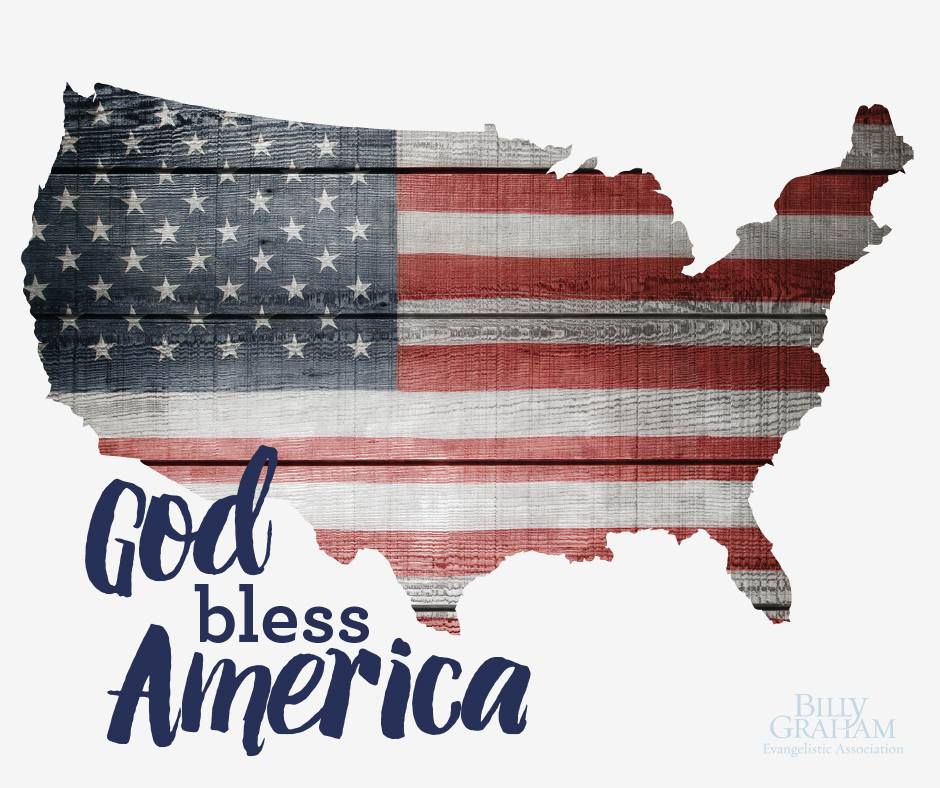 Why We Honor America
There are many reasons why we honor America today:
First, we honor America because she has opened her heart and her doors to the distressed and the persecuted of the world.
Second, we honor America because she has been the most generous nation in history.
Third, we honor America because she has never hidden her problems and faults.
Fourth, we honor America because she is honestly recognizing and is courageously trying to solve her social problems.
Fifth, we honor America because she has never sought to use her tremendous power to take over other nations.
Sixth, we honor America because she defends the right of her citizens to dissent.
Seventh, we honor America because there is woven in the warp and woof of our nation faith in God.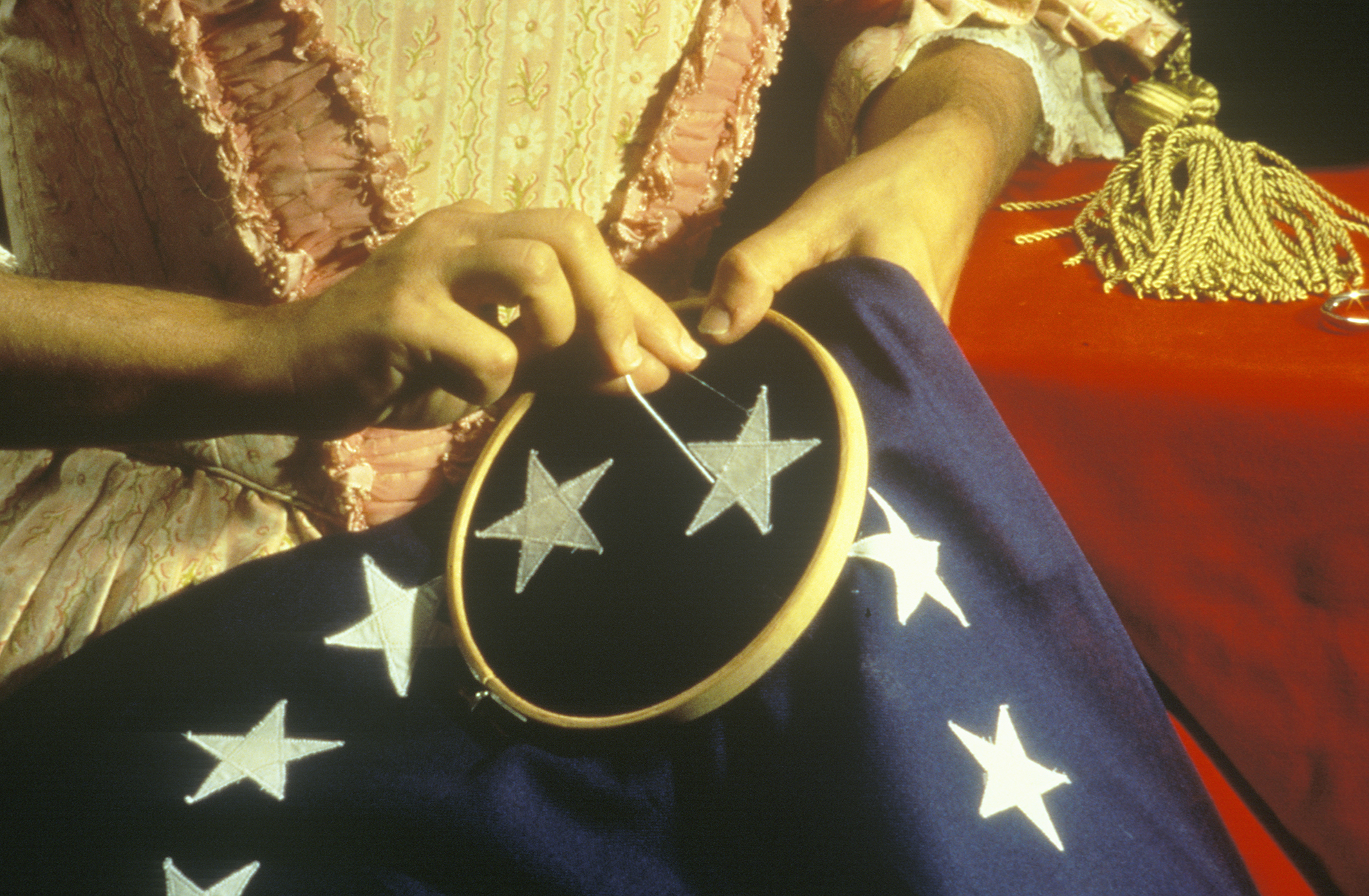 Check Our Stitches
On the front page of a Chicago newspaper some time ago there appeared a picture of Betsy Ross sewing the first American flag. Over the picture was the caption, 'Time to check our stitches."
It is time at this period of history for us to "check our stitches."
Let's check the stitches of racism that still persists in our country. Let's check the stitches of poverty that still binds some of our countrymen. Let's check the stitches of foreign policy to be sure that our objectives and goals are in keeping with the American dream. Let's check the stitches of pollution brought on by technology. Let's check the stitches of a moral permissiveness that could lead us to decadence. Let's even check the stitches of freedom to see if our freedoms in America are in danger of becoming "license." A liberal British writer recently said, "You Americans have become too free until you are no longer free."
What a wonderful thing it would be if we could check these stitches and many others before we celebrate our 200th birthday only six years from now!
The Bible tells us that God has a standard for men and nations and that H is standard must be met. It is right and proper to honor our country, to rejoice in her liberties and to sing her praise. But this can be abused when we make it a substitute for God. We honor America but we do not worship her. The First Commandment says, "Thou shalt have no other gods before Me."
The Bible is the only Book that fully answers the ultimate questions that youth are asking: Who am I? Where did I come from? Why am I here? Where am I going? What is the purpose and meaning of my existence? How can I find peace and happiness here and hereafter? These are the ultimate questions they are asking even in their music.
The Biblical answer is dramatic and satisfying. We are spiritual beings, created in the image of God. We have a will and the power to exercise it. We've been placed upon this earth for the express' purpose of glorifying God and loving our neighbor.  The entire universe has but one cosmic goal-to declare the glory of God. Only in doing God's will can every American enjoy inner spiritual peace and happiness. Materialism will never satisfy man's longings and desires. "A man's life consisteth not in the abundance of the things which he possesseth." We as a people must confess that we have sinned and been ungrateful. We must acknowledge that the mercy of God has preserved us in spite of our transgressions.
There is a certain sense of fear and expected cos­mic judgment that hangs over our country at this hour as the divine timepiece ticks away. Thomas Jefferson felt this so deeply that he once wrote: "I tremble for my country when I reflect that God is just, that His justice cannot sleep forever."
The Bible teaches that God will judge any nation that turns its back on Him-especially a nation like America which has been given more privileges and opportunities than any nation in history. Jesus said, "To whom much is given, of him shall much be required."
At President Eisenhower's first Inauguration he put his finger on a verse of Scripture that every American should remember today: "If My people which are called by My name, shall humble themselves, and pray, and seek My face, and turn from their wicked ways; then will 1 hear from heaven, and will forgive their sin, and heal their land."
If we don't "check our stitches," and check them quickly, the American dream could be turned into a nightmare.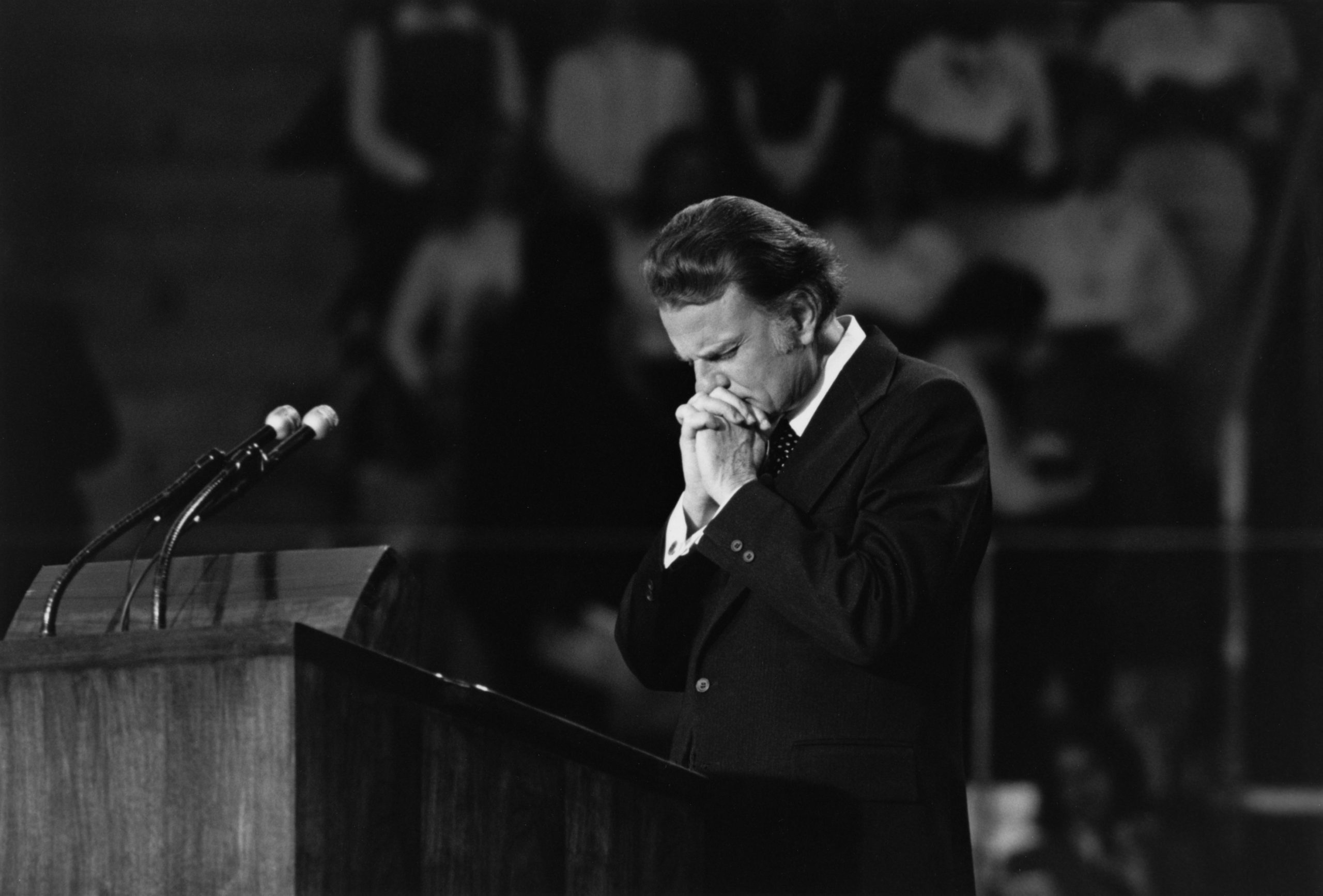 Raise Your Prayers
We have stood tall in America in most areas, but on this Independence Day I call upon Americans to bend low before God and to go to their knees as Washington and Lincoln called us to our knees many years ago. No nation is ever taller than when on its knees. I submit that we can best honor America by rededicating ourselves to God and the American dream.
Today I call upon all Americans to raise your voices in prayer and dedication to God and in recommitment to the ideals and dreams upon which our country was founded. Let's dedicate ourselves to a renewal of faith in God, equality, justice and peace for all. Let's dedicate ourselves to building rather than burning.
What our forefathers began we must work to fulfill. Their goal must be our goal and we must pursue it. Their vision must be our vision and we must pursue it. It is the vision of one nation under God, where men can live as brothers in peace and in freedom.
I'm asking all Americans today, especially our young people, to pursue this vision under God, to work for freedom and for peace, to labor relentlessly, to love passionately, to serve selflessly, to pray earnestly, and to die nobly if need be. It will not be easy. The journey will be hard. The day will be long. And the obstacles will be many.