July 11, 2015
Volunteer Spotlight – July 2015
At the Library we are blessed to have volunteers serving in many roles, which include welcoming guests at the Graham Family Homeplace or at the entrance to the Library, assisting guests through the galleries or praying with guests in our prayer area.
Each month we recognize one of our volunteers and we want to share our appreciation of them with you.
Meet Nicole Miranda who was recognized in our volunteer spotlight for July 2015.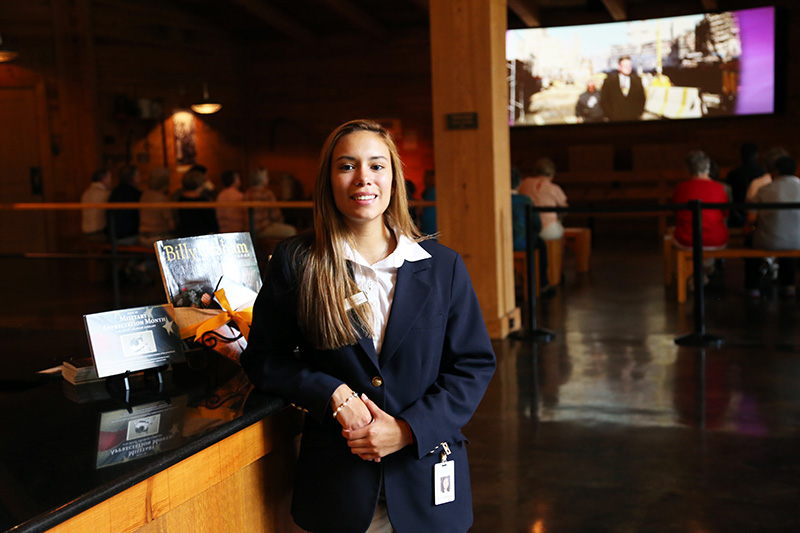 Nicole is 18 years old and just graduated from Olympic High School in June. The Billy Graham Library has a special place in her heart, and she praises God for her opportunity.
A few years ago, Nicole was looking for a job. Her mother got online to research options, and The Billy Graham Library popped up. Nicole remembers her mom saying, "I don't know why, but I feel like you should volunteer here."
"When I came here, I knew the reason why. It's such a great place," Nicole said. "I don't think I've ever had a bad day here. Even if I do come in in a bad mood, then somebody lifts it up."
She started volunteering in September 2013. After volunteering almost a year, she was approached by the Guest Services Manager, Mike Chatterton. "I would like to plant a seed in you. How about you try applying for the Guest Services position?" he asked her.
She applied for the position, got the job and began working for the Library in July 2014. She continues to volunteer, and her favorite spots are at the front door and the introduction.
Her favorite time of the year at the Library is during Christmas. "We are super busy and it's super stressful, but once you dig down and realize why you're doing it and why you are here… It's really special," she said.
Outside of the Library, Nicole attends church at Forest Hill Church in Fort Mill. She was baptized a couple years ago, and loves to attend Bible study with her mom. She also enjoys eating Italian food and playing volleyball in her free time.
Nicole's favorite verse is John 3:16, "For God so loved the world, that he gave his only Son, that whoever believes in him should not perish but have eternal life." Ever since she began attending Forest Hill Church and was baptized, her relationship with Christ has grown.
She asks for prayer as she will one day have to unwillingly leave The Billy Graham Library and figure out her future. She is considering studying Psychology or working to be a Veterinarian.
The family of Christ at the Library have lifted her spirit, and she trusts there was a reason God brought her here. "I'm so glad I found this job," she said. "It is a real blessing."
Want to learn more about Nicole and the other volunteers at the Billy Graham Library? You can join them in being a volunteer. Learn more on our website.