September 26, 2014
Staff Picks – "The Magnificent Obsession" by Anne Graham Lotz
September's staff pick is available in Ruth's Attic bookstore in the Library – The Magnificent Obsession: Embracing the God-Filled Life by Anne Graham Lotz.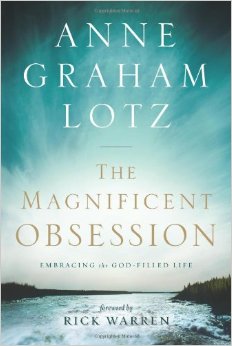 If you or someone close to you is devoted to their church but still struggles to find meaning and passion in their faith; who loves their family, works hard, contributes to their community, but still feels life is somehow incomplete and hollow at the core; who is restless in spirit, with a nagging sense that there must be something more … there is The Magnificent Obsession.
Gifted Bible teacher Anne Graham Lotz, daughter of evangelist Billy Graham, has known these struggles herself. As she studied Scripture, looking for a way out of the emptiness, she found her answer in the amazing story of Abraham, a very ordinary man who became extraordinary for one pivotal reason: he pursued God in a life of obedient faith, not knowing where that decision would take him. Anne followed Abraham's lead and began a lifelong pursuit of knowing God, as he truly is, in an intensely personal relationship.
Through personal anecdotes, unforgettable stories, and God-inspired insights, she invites you to draw closer to God, who is as committed to you as he was to Abraham, and longs to call you "friend."
Want to dig in deeper? There is a participant's companion available to The Magnificent Obsession. In this seven-session study on Genesis 12-22, Anne challenges readers to follow Abraham's example and not only embrace the God-filled life, but pursue Him in a relationship He would describe as a friendship.  Includes a Bible study workshop where Anne demonstrates the 3-Question Method of studying God's Word that she uses in her own personal quiet time.
About Anne Graham Lotz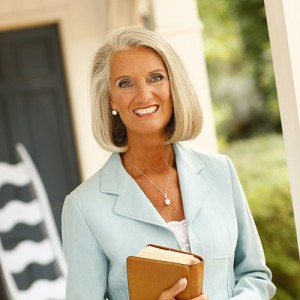 Anne Graham Lotz, daughter of Billy and Ruth Graham, is the President and Executive Director of AnGeL Ministries, a non-profit organization offering Christian outreach. Anne has spoken on all seven continents in more than twenty foreign countries, proclaiming the Word of God at seminaries, colleges, and conferences. Anne and her husband, Danny, reside in Raleigh, North Carolina.