September 9, 2013
National Teddy Bear Day

Today marks the annual celebration of National Teddy Bear Day. This cuddly children's toy is the namesake of our annual winter children's event – The Teddy Bear Tea. This annual event shares the message of the birth of Jesus Christ to our younger audience—children age 5 and older. Along with story-telling to inspire the children with the story of Christ's birth and the true meaning of Christmas, children and their parents also get to enjoy live-music, holiday treats and every child receives a special commemorative teddy bear.
The 2013 Teddy Bear Tea will take place on Saturday, December 7. With just 89 days until the Teddy Bear Tea (106 until Christmas!), you may want to reserve your space early for this fun-filled, children's event – it has sold out the past 4 years.
Looking for a way to share the joy and hope of Christ with other children? Consider adding a small teddy bear to your Operation Christmas Child shoebox.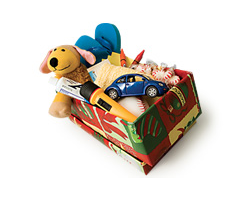 Upcoming Events at the Billy Graham Library
Every Wednesday through Oct. 9
10-11 a.m.—Children's Story Time
Saturday, Sept. 14
7:30-9 a.m.—Men's Breakfast and Tour with guest speaker Major Scotty Smiley (limited seating)
10-11 a.m.—Book-signing with author of "Hope Unseen," Major Scotty Smiley (open to the public)
Saturday, Oct. 19
9:30 a.m.-3 p.m.—6th Annual Bikers with Boxes; Last year over 1,400 shoeboxes were collected for the Samaritan's Purse Operation Christmas Child
Friday, Nov. 22
6:30-8:30 p.m.—Ladies Night Out with Casey Schutrop (limited seating)
Dec. 2-23
Christmas at the Library
Saturday, Dec. 7
2-3 p.m.—6th Annual Teddy Bear Tea (limited seating)