March 8, 2018
Heaven's Feast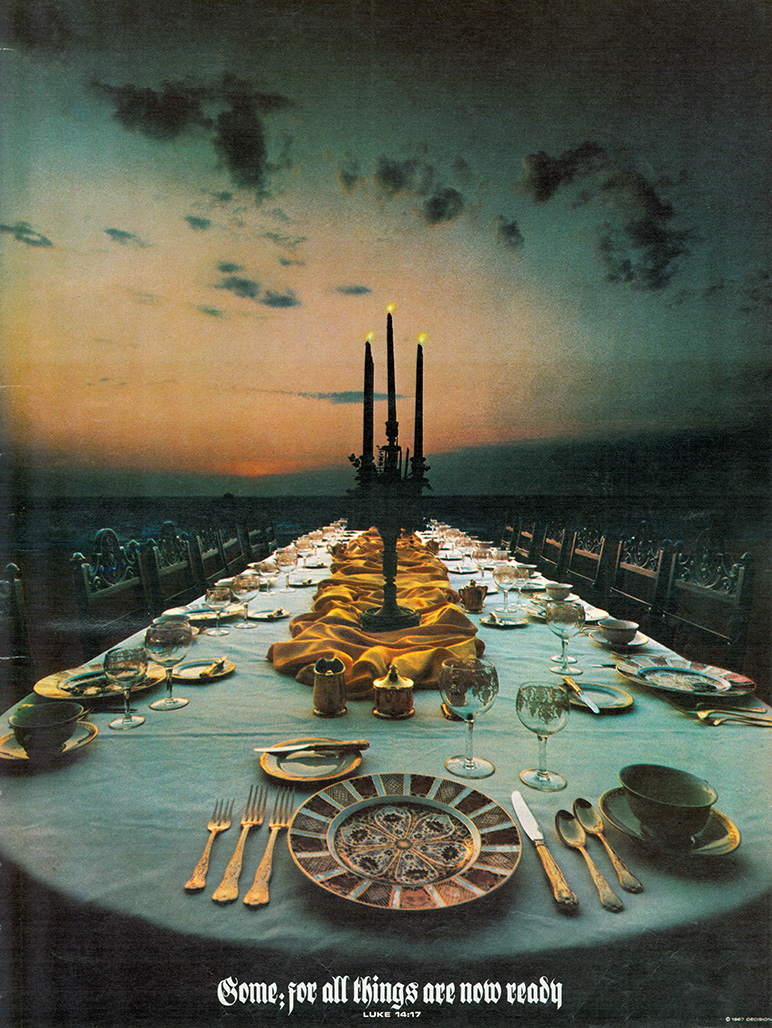 Atop a rooftop in Minneapolis a table was set to depict Heaven's Feast; all that was missing was the backdrop. The Author of World painted the spectacular sunset in the evening sky for an inspiring shot used in the December 1967 Decision Magazine.
Today, Billy Graham has completed his journey home to sit at the Lord's table. "And I say unto you, That many shall come from the east and west, and shall sit down with Abraham, and Isaac, and Jacob, in the kingdom of heaven" Matthew 8:11.
These words accompanied the 1967 photo. Imagine the celebration in Heaven!
Now let the Christmas table be spread. Let it be an extended table made up of the tables of your households, and added to them the tables of celestial festivity, all together making a table long enough to reach from earth to heaven. Send out the invitations to all the guests whom we would like to have come and dine. Come, all the ransomed of earth and all the crowned of heaven!

Let the old folks who sat at each end of your Christmas tables ten or twenty or forty years ago be seated, their aches and pains all gone; behold, they sit down in the exhilaration of everlasting youth. Come, brothers and sisters who used to retire with us early on Christmas Eve so that the mysteries of bestowed gifts might be kept secret, and who rose with us early on Christmas morn to see what was to be revealed.

Come, all the old neighbors of our boyhood and girlhood days. Come, all the ministers of Christ who have in pulpits for many a year been telling the story of the star that pointed to the world's first Christmas gift. Come and sit down, you heralds of glad tidings. Come in! There is room at this Christmas table for all you who have bowed at the manger, in whatever world you now live.

Yes! Come and sit at this Christmas table, all heaven: archangel at that end of the table, and all the angels under him adjoining. Come down! Come in! And take your places at this Christmas banquet. The table is spread, and the King who will preside is about to enter.

He comes! He of Bethlehem, he of Calvary, he of Olivet, he of the throne! Rise and greet him. Fill all your chalices with wine pressed from grapes of the heavenly Eshcol [Numbers 13:23], and drink at this Christmas banquet to the memory of the babe's rescue from Herodic pursuit, and the memory of those astronomers of the East whom God used to defeat the infernal stratagem. "Sing ye to the Lord, for he hath triumphed gloriously!"

by T. DeWitt Talmage, Decision Magazine, December 1967