February 1, 2012
Happy Birthday, Bev Shea!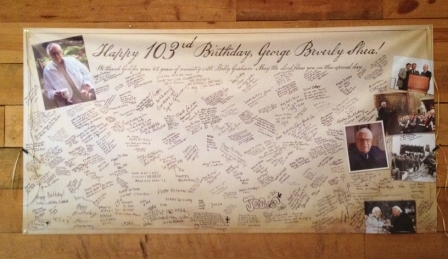 Today is our dear friend George Beverly Shea's 103rd birthday. This week, guests at The Billy Graham Library have been signing their own birthday greetings on this banner, which will be delivered to Mr. Shea later.
In addition, we've had some great friends in the music industry reach out to us to express their own sentiments:
"A legacy like George Beverly Shea's will never again exist in the field of Gospel Music.  He is an institution whose talent is only matched by his character. Happy Birthday Mr. Shea! We love you!"
-Clarke Beasley, Executive Vice President, National Quartet Convention
"As a kid in Beaver Dam, Ky, I remembered being touched by the music of George "Bev" Shea while my family watched the Billy Graham Crusades on TV.  His song "I'd Rather Have Jesus," is one of my all time favorites and now most requested to perform at my concerts.  Happy Birthday Mr. George Beverly Shea!  Thank you for your gift."
– Jason Crabb
"When the name George Beverly Shea is spoken, I immediately think of the word icon. Thank you for blessing me and the world with your music and your life. Happy 103rd Birthday George!"
– Michael English
"Happy Birthday Mr. Shea. Your music and life is an inspiration to the body of Christ! We love you!"
– Ernie Haase & Signature Sound
"The life of George Beverly Shea – now exceeding a century – has affected more souls than he will ever know. Happy Birthday, Mr. Shea, may God continue to pour out his blessings upon you!"
– Dean Hopper, The Hoppers
Please join us in wishing him a happy birthday!