August 27, 2012
Crusade City Spotlight: Tampa
You know that the Democratic National Convention is being held in Charlotte, N.C., the hometown of Billy Graham and site of The Billy Graham Library. We also recently profiled the Crusades that took place in Charlotte throughout the years. But, what about Tampa, the site of the Republican National Convention, which begins this week? Billy Graham has strong ties and connections to that city as well.
You could say that Billy Graham's ministry began in Tampa. That's where he attended Florida Bible Institute in Temple Terrace, 15 miles east of the city, from 1937 to 1940.
"The curriculum was largely Bible courses, or subjects related to the Bible (for example, church history)," Billy writes in his autobiography. "It also offered me the saturation I wanted in the study of God's Word. I came to believe with all my heart in the full inspiration of the Bible."
His first preaching opportunities came at small churches and street corners in the Tampa area during his time at Florida Bible Institute. And, it was during his time at Florida Bible Institute that he received the call and fully committed his life to proclaiming the Gospel.
1961
Billy Graham returned to Tampa in February of 1961, as the team embarked on a multi-city Florida Crusade. Other stops included Orlando, Jacksonville, St. Petersburg, Bradenton, Sarasota, Clearwater and Tallahassee. Meanwhile, other members of the team were holding events in other cities throughout the state. During the stop in Tampa, 20,000 attended and more than 600 made decisions for Christ.
1979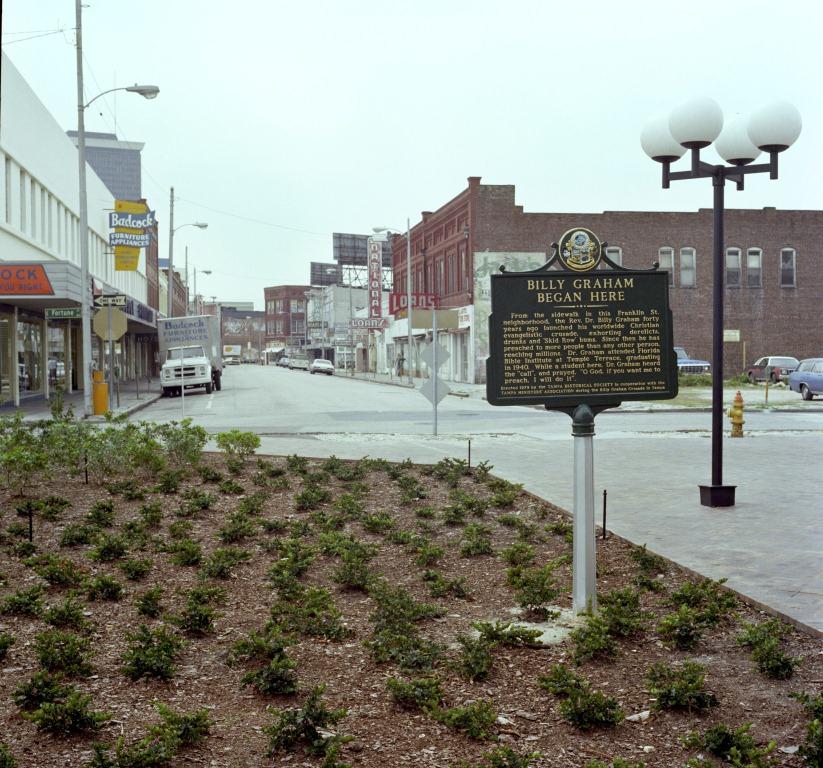 In a preview article, Charette Barta Kvernstoen wrote about the upcoming Crusade in the March 1979 issue of Decision magazine:
The Crusade is expected to have an impact on the community as well. For Tampa's Mayor William F. Poe, "it is a dream come true." When Mayor Poe took office it was one of his goals to have a Crusade in his city. Now, as the Crusade's honorary chairman, he sees Tampa and other cities and small communities being affected by rededicated lives and first-time decisions for Christ. In addition he believes the Crusade has potential value from a moral aspect. "There is a good atmosphere of brotherhood developing."
It all came to fruition March 21-25 at Tampa Stadium. More than 175,000 attended and 6,000+ made decisions for Christ. During the Crusade, the marker seen above was unveiled, paying tribute to Billy Graham's beginnings on the streets of Tampa.
1998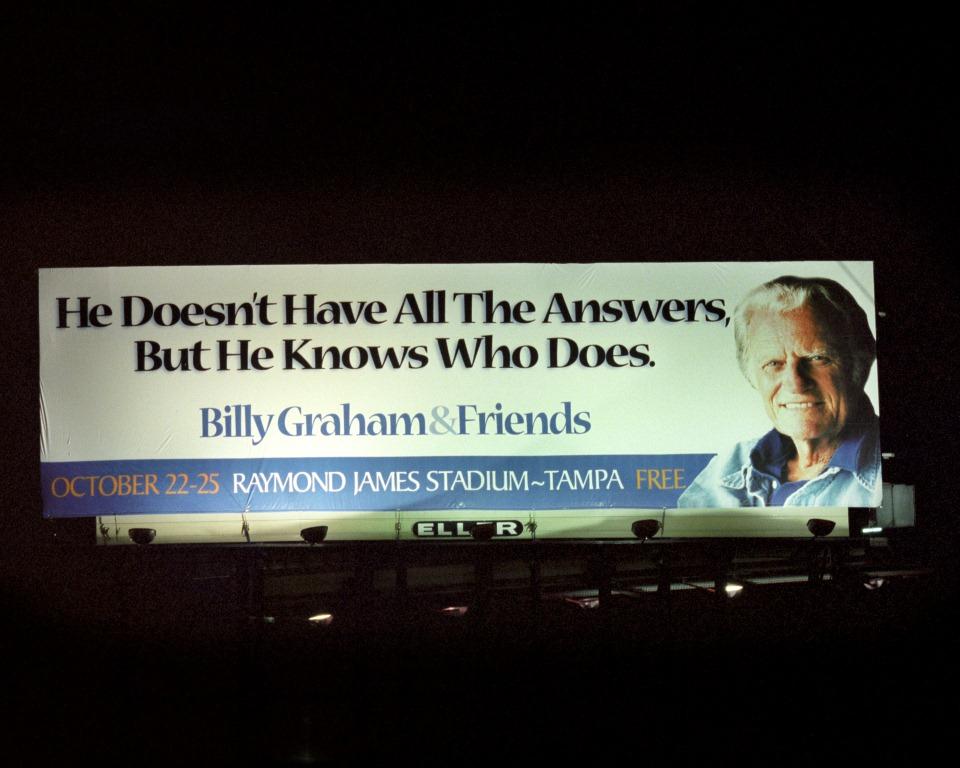 Billy Graham's third Tampa Crusade in October of 1998 broke two consecutive attendance records for any local sports facility, and it was the first non-football event to be held in the newly constructed Raymond James Stadium. Audiences averaging 64,500 filled the stadium, of which an average of nearly 4,900 each night came forward to make a commitment to Christ.
Tony Dungy, then coach of the Tampa Bay Buccaneers, had the opportunity to introduce Billy Graham at the Crusade. He shares about that experience here.