In 1988, Rev. Billy Graham gave the benediction at both the Republican National Convention and the Democratic National Convention. Read his DNC message HERE.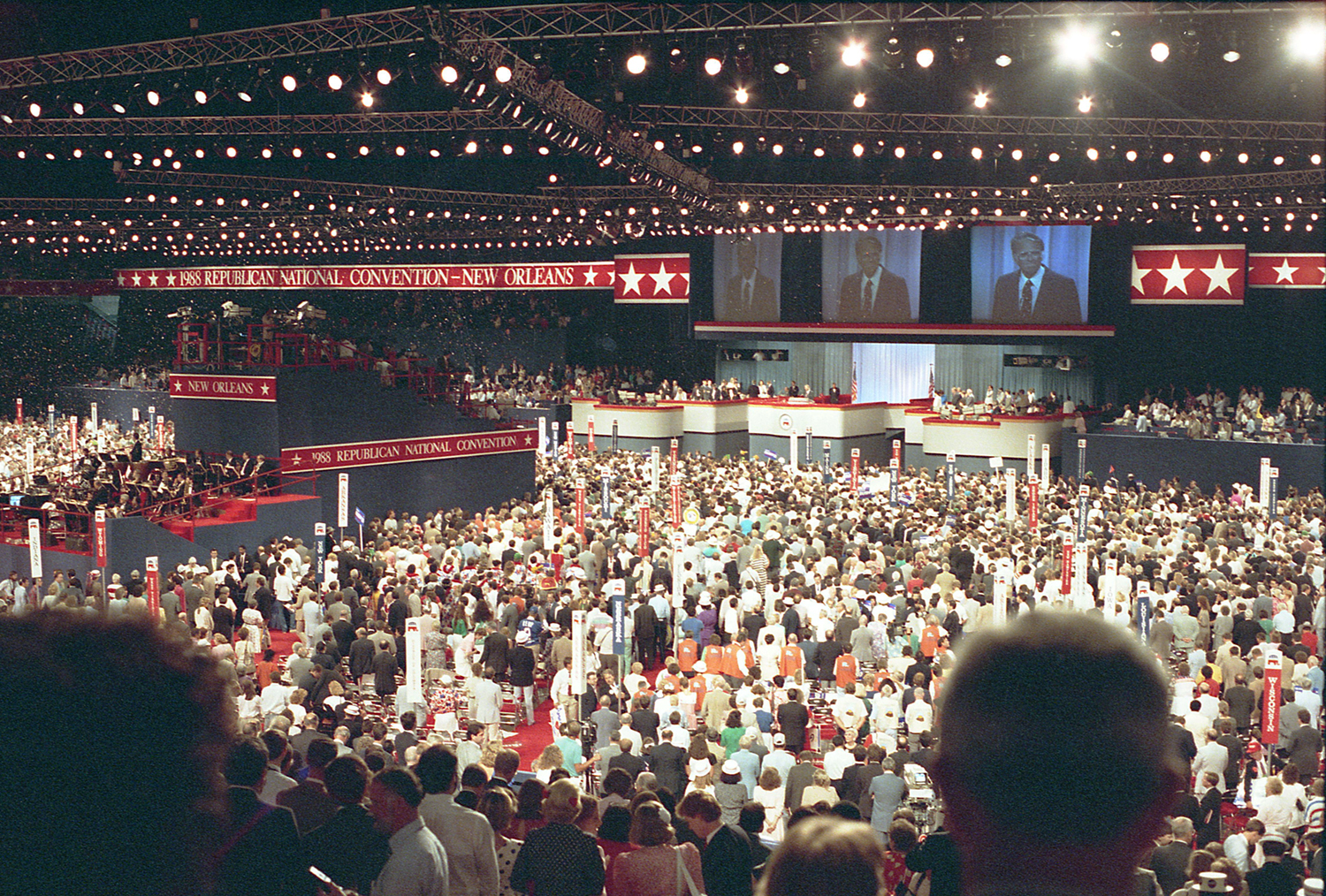 Today, as the Republican National Convention opens in Charlotte, North Carolina, we are sharing the words from Rev. Graham, 32 years ago at the 1988 Republican National Convention in New Orleans, Louisiana:
Our Father and our God, at the end of this exciting and historic evening we pause to acknowledge our dependence on you and to ask for Your wisdom and direction in all the decisions of this convention.

We affirm the ancient words of Solomon that "The fear of the Lord is the beginning of wisdom." [Proverbs 9:10]

We thank You for the moral and spiritual heritage we have: as a nation. We thank You for all the ideals that have made America great. We thank You for the great freedoms we enjoy: the freedom to speak, to write, to worship, and to participate in the election of our leaders.

We thank You for the leadership that President Reagan has given us for the past seven and a half years. Especially do we thank You for his emphasis on spiritual matters. We thank You for the example that President and Mrs. Reagan have given in their personal lives. We also thank You for the leadership that Mrs. Reagan has given in the fight against drugs. We pray that when they leave the White House next January they will enjoy good health and Your blessings for many years, and may they continue to exert moral and spiritual influence.

While many problems have been solved during the past few years, yet there is still great need — drug related crime is a major problem, even in this city. We see pockets of poverty, injustice, and greed. We pray for all those who are suffering need and pain and despair tonight, whether they are in a tenement apartment in New York, or living in affluence in San Francisco, or in a hospital room. We know that without Your strength and Your help we cannot be the kind of people that we need to be in our troubled world. We remember in similar circumstances that David, the great king of Israel, wrote that we are not to be afraid of the terror by night, nor the arrow that flies by day, nor for the pestilence that walks in darkness; nor for the destruction that wastes at noonday. [Psalm 91:5-6] But we cannot claim this promise until we have repented of having turned from You so often to go our selfish ways. We have so often left You to serve the false gods of money, pleasure and power. We recall President Eisenhower's words from his first inaugural address, "Whatever America hopes to bring to pass in the world, must first come to pass in the heart of America."

Oh, God, we are America, and we know how much our hearts need to be right with You. We pray for a moral and spiritual renewal that could begin in each of us tonight and spread throughout the land.

We pray for Vice president Bush and his family as he is about to be nominated this week for president. We thank You for this closely knit family who all recognize You as their Heavenly Father.

We pray for the people of the United States during the campaign and election that Your will be done in the choice of leaders. May the people seek Your guidance in whom they should vote for. As Abraham Lincoln once said, "I have decided that all my words and acts may be according to His will."

Help us to recognize that we not only elect the President of the United States, but the President of the free world. Help us to keep in mind that several billion people will be affected by this choice. Help us to recognize the tremendous responsibility we have to cast our vote, and that even one vote counts.

In the days to come, in a deep and wonderful way, Oh Lord, we pray that You would truly bless America.

"The Lord bless you and keep you; the Lord make his face shine upon you and be gracious to you; the Lord turn his face toward you and give you peace." [Numbers 6:24-26, NIV]

All this we pray in the name of the Father, the Son and the Holy Spirit. Amen
Will you join us in praying for the attendees and participants in the 2020 Republican National Convention; for the law enforcement, first responders, essential services, and community members as they prepare for events surrounding the convention; and for peace in the cities of Charlotte and Washington D.C. for the duration of the convention?