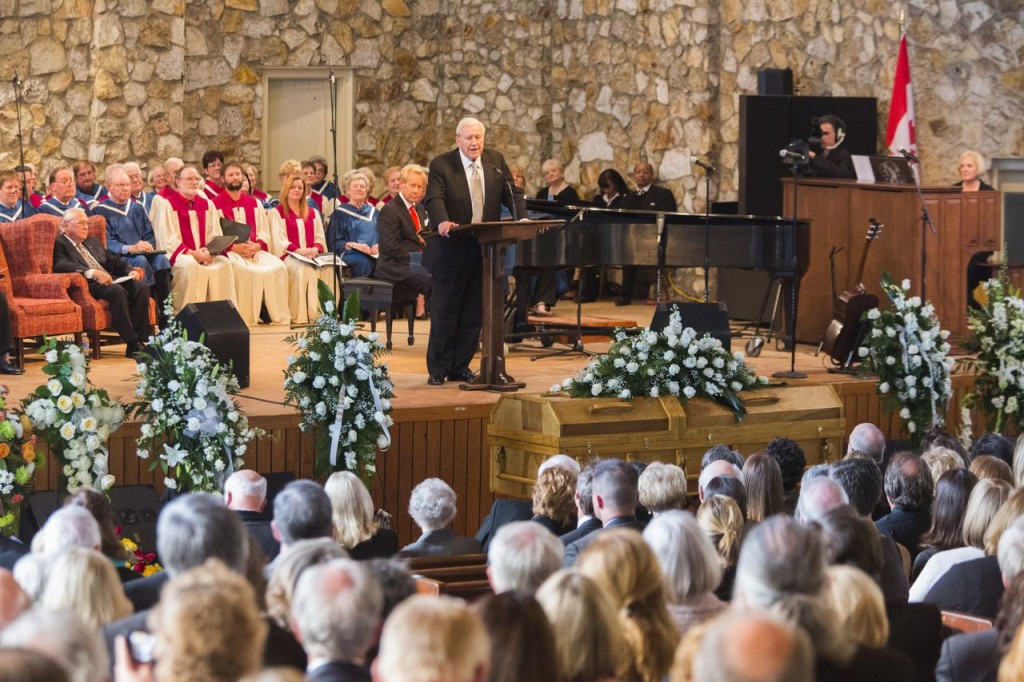 Bev Shea, who passed away Tuesday, April 16, at the age of 104, was remembered yesterday in a public memorial service at Anderson Auditorium in Montreat, N.C.
"This man's life can be summed up in a few simple phrases," said Dr. David Bruce, who offered the Scripture reading and meditation during the service. "The twinkle in his eye, the praise on his lips, the song in his heart, the length of his days, and the joy of his Lord."
Beginning as the soloist for Billy Graham Crusades in 1947 in Charlotte, Shea sang with Billy Graham for nearly 60 years, until Graham's final Crusade in 2005 in New York City. Shea remained active with the Billy Graham Evangelistic Association (BGEA), singing at Franklin Graham Festivals in Charleston, S.C. (2008), and Knoxville, Tenn. (2008); Will Graham Celebrations in Paducah, Ky. (2007), and Gastonia, N.C. (2006); and events at The Billy Graham Training Center at The Cove in Asheville, N.C.
The event was attended by nearly 1,000 friends and family, including Billy Graham, Franklin Graham and other associates of the ministry. During the service on Sunday afternoon, Cliff Barrows, long-time music director for Billy Graham Crusades, offered memories from decades of ministry alongside George Beverly Shea.
"For more than 70 years, I had the privilege of introducing 'America's Beloved Gospel Singer,'" said Barrows. "And, oh, how the people would listen. Billy Graham said he'd rather hear Bev sing than anybody. So would we all."
Barrows continued, "We knew that whatever took place on the platform before Billy Graham spoke, in every city we visited, that Bev would be used by the Spirit of God to prepare the hearts of the people for the message and he would prepare Billy's heart to preach that message."
Shea will be laid to rest on the grounds of the Library in Charlotte during a private family ceremony today. We will be closed to the public and will reopen for visitors on Tuesday, April 23.