This year we will be posting a plan to read the Bible in a year, with a month's worth of readings posted at the beginning of each month. The plan will take you through every book of the Bible in the order they are estimated to have been written.
Why do we read the Bible? Read what Billy Graham has said about the importance of the Bible below.
What makes the Bible so different from other books? The Bible is the Word of God.
Yes, various human authors wrote it-but behind them was another Author: the Spirit of God. Even when they weren't fully aware of it, God was guiding them so that what they wrote wasn't just their own words, but God's Word.
The bible is God's gift to us. It came from God, and it points us to God. The Bible says of itself, "All Scripture is given by inspiration of God, and it profitable for doctrine, for reproof, for correction, for instruction in righteousness, that the man of God may be complete, thoroughly equipped for every good work" (2 Timothy 3:16-17 NKJV).
Especially significant… was Jesus' own view of Scripture. He not only quoted it frequently, but also accepted it as the Word of God. While praying for His disciples, He said, "Sanctify them by the truth; your word is truth" (John 17:17).
Don't let anyone shake your confidence in the Bible as God's Word.
Will you join us in reading through the Bible in 2014?
Get the list of daily Bible reading passages below.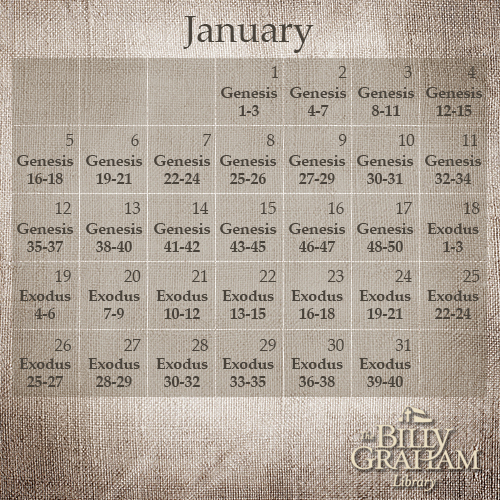 Check back for next month's passages or sign up for our emails through the subscription tool on our blog at

lettersfromthelibrary.com

.